Topic: Shotgun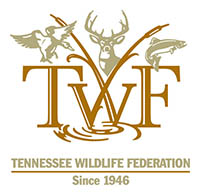 Nashville, TN – Tennessee Scholastic Clay Target Program invites 4th through 12th graders from all corners of the state to come explore the shotgun shooting sports and try hitting a few targets on their own.
The free Recruitment Day is on September 28th from 10:00am to 2:00pm (local time) and will introduce youth to teams in their area. To find a location near you visit tnwf.org/explore.
"We're always excited to welcome and introduce new athletes to the sport. Whether you've handled a firearm before or not, Recruitment Day is a safe and fun way to try the sport for the first time," said Andrew Peercy, Tennessee SCTP manager.
«Read the rest of this article»
Clarksville Police Department

Clarksville, TN – Clarksville Police report a man who walked into a Cash Express, 989 South Riverside Drive, with a double barrel shotgun and demanded money was in-custody within 20 minutes of the robbery.
On Wednesday, September 12th, 2018 around 5:17pm Officer John Matos was on routine patrol and saw a man running from the area of 989 South Riverside Drive carrying a shotgun and entering a maroon SUV.
«Read the rest of this article»
APSU Sports Information


Clarksville, TN – Austin Peay State University men's golf returns to the links Monday with a trip to Jonesboro, Arkansas for the 22nd Annual Arkansas State Bubba Barnette Intercollegiate, hosted by Arkansas State at RidgePointe Golf Club.
«Read the rest of this article»

Clarksville, TN – When Clarksville Police Officers ended the standoff on Commerce Street and entered the residence they found a .380 caliber Semi-automatic pistol, a .12 gauge shotgun, and the AK (Kalashnikov) variant rifle.
There were 267 rounds of 7.62x39mm rifle ammunition, 117 rounds of 9mm ammunition, and 14 rounds of .12 gauge shotgun ammunition.
«Read the rest of this article»

Clarksville, TN – Investigators with the Montgomery County Sheriff's Office (MCSO) have made an arrest and recovered over $50,000 in stolen property and guns.
Patrick Richard Kraniak, 19, was arrested on June 21st, 2016 in connection with an aggravated burglary in the 3500 block of Vickers Road and two aggravated burglaries in the 3700 block of Tarsus Road.
The aggravated burglary on Vickers Road occurred on March 16th, 2016. Seven rifles and shotguns, a gun case, small safe, construction materials, $2000 in cash, and a 2006 Toyota Camry were stolen from the residence.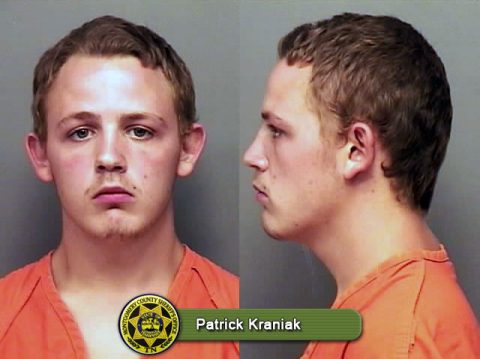 «Read the rest of this article»

Clarksville, TN – Clarksville Police detective Ron Parrish is investigating an Aggravated Assault and is requesting public assistance. Last night, September 1st, 2015 at 8:15pm, Clarksville Police Officers responded to an Aggravated Assault at an apartment on the 800 block of Peachers Mill Road.
Upon arrival at the residence, an Officer observed the victim lying on the ground holding his mouth.
«Read the rest of this article»

Clarksville, TN – On March 19th, 2015, William Lewis, a 27-year-old Clarksville resident, reported to Clarksville Police Officers a Burglary at his neighbor's (victim) apartment at an apartment complex on the 800 block of Peachers Mill Road.
Lewis advised that two black males entered the victim's apartment and ran out then got into a white Dodge Intrepid. Soon after Lewis' report to Officers, the Officers found that Lewis had a warrant on file for Violation of Probation with Rutherford County and was arrested on scene.
«Read the rest of this article»
Police Team Work, Detailed Information from Witnesses, and Store Video Helped to Confirm Robbery Culprits

Clarksville, TN – On Wednesday, February 12th, 2014 at 6:52pm, the Clarksville Police Department responded to a Robbery at Rony's Smoke Shop on North Second Street.
Police received a silent alarm at the shop in reference to a possible robbery in progress. Officer J. Smith made contact with the store owner (victim 1) and the other victim (victim 2).
They both advised that they had just been held at gun point with a shotgun. Victim 1 stated that the suspect demanded money from the cash register and victim 2 stated that he had $15.00 taken from him.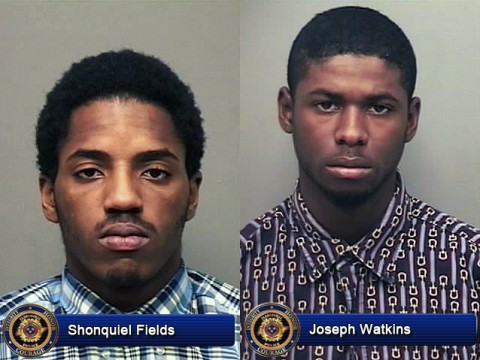 «Read the rest of this article»

Clarksville, TN – On September 30th, 2013, at approximately 4:52PM an unknown white male, approximately 5'11 to 6'0 foot, wearing a dark colored jacket, and a mask covering his face, entered the business at 804 Tiny Town Rd with a shotgun or long rifle (the victim was not positive on the weapon but stated it was large).
The robbery suspect pointed the weapon at the store owner and demanded the money.
«Read the rest of this article»

Clarksville, TN – On March 10th, around 10:30pm, Clarksville Police Officers responded to a call of a 21 year old man being threatened with a shotgun at 3414 Pembroke Road.
The 21 year old man was dropping off his 18 year old girlfriend at the residence when Jonathan Hargadine came outside on the porch with a shotgun and threatened to shoot the 21 year old if he did not leave.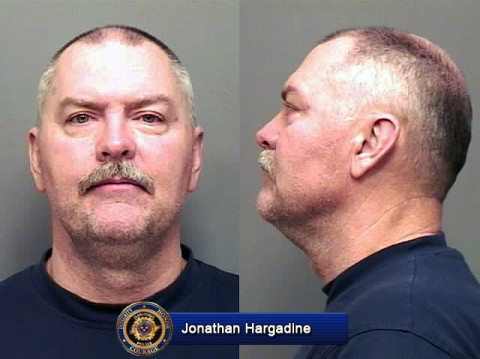 «Read the rest of this article»