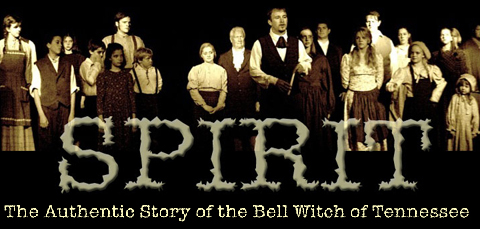 Adams, TN – Anticipation is building in the Robertson County town of Adams, TN.  This week the cast of David Alford's play SPIRIT, The Authentic Story of the Bell Witch arrives in town and begins rehearsal on the old school grounds not far from where the Bell Witch legend first got its start. If you have never experienced this play for yourself this is not the year to miss it!
For the first time in Spirit's run, some may say the stars have aligned and the past meets present when father and daughter will be portraying their direct ancestors John Bell and his daughter Betsy Bell, the two that were the focus of the Bell Witch torture.
"Its more personal, it bothers you more when you are on stage with your own daughter and you think of these horrible things happening to her. Its easier to get into character." –Bob Bell
Bob Bell of Springfield, TN will be playing the role John Bell who happens to be his 5th Great Grandfather. Bell comes from a long line of prominent men in the Robertson County community. Around town the Bell men are known as strong men of morals who stand for what they believe in and have what Bob Bell calls the "work ethic" gene. The Bells have endured and overcome trials in their past and continue to leave a strong legacy for those coming after them.
John Bell Sr. who moved in 1804 from North Carolina, like many during that time, and set in deep roots that took hold in rich Red River soil. He was a planter and had great ambitions for his family. His namesake John Jr. served in the War of 1812 under Andrew Jackson and through out their family line the Bell men bravely and proudly served our country. They were and still are men of faith, the God fearing type that cherish old family bibles and are present in church on Sunday mornings and gather for lunch afterwards with others in the community. The Bell family line is about as all American as you can get.
In the south it's not uncommon for most people to be able to say the same about their family in some respect. You wouldn't have a true old south family heritage without a few skeletons in the closet. The Bells however, have something a bit darker than just a dusty skeleton in their closet, they have something evil. Something so evil in fact that it wasn't just "swept under the rug"- it wasn't spoke of at all until recently when books, plays and even Hollywood took the story and ran with it.
Bob Bell feels that media hasn't done a true factual portrayal of his family. Specifically mentioning the director Courtney Solomon of American Haunting, who according to Bell went with the most popular and profitable theory on the Bell Witch at that time. The movie American Haunting (2005) had blockbuster stars Donald Sutherland and Sissy Spacek and grossed $5,783,508 on its opening weekend. This film's ending suggests that John Bell was sexually molesting his daughter Betsy and from that abuse Betsy conjures up this Witch or Spirit. The film then goes on to imply that John's death was not necessarily from the poltergeist but from Betsy herself and perhaps with a little help from Lucy Bell, John's wife and Betsy's mother.
Up until recently the earliest written documentation that the Bell's had of what happened within their family was M.V Ingram's Authenticated History of the Bell Witch written in 1894. However, Bob shared with me that there has now been a hand written letter found from a father and son written in 1819 to another member of their family in which they account that they were " going to the Bell's farm to see their Angel." Further down into the letter the author claims that what they saw was "not an Angel but the devil himself". This letter, if proven authentic, adds great creditability to the legend.
Perhaps though if one needs more convincing they only need to spend a short amount of time talking to any of the Bell family members to know that even now on the crest of the 200 hundred year mark since the "family troubles" first began they have yet to fully escape from the Spirit which provoked their ancestors.
One such story that especially peaked my interest more than missing family plots randomly turning up on family hunting trips, or Grandmother Bell's china that did not shatter after taking an abrupt fall from its secure position in the china cabinet, or even the ghostly image of a young pubescent girl in a white dressing gown that apparently follows Bob Bell about town is what happens every year around the rehearsal and production of this play 'SPIRIT'. Below is Bob Bell's account of just one of the many occurrences.
Every year when our rehearsal moves to the Adams School yard where the play is performed we seem to draw in stray animals that have an interest in what we are doing. They show up only during rehearsals and we can't get rid of them. No one knows who they belong to and afterwards they are not seen again around town. One year in particular there was a large black dog that came. He was a kind lazy dog away from rehearsal but when rehearsal began he would flop down on stage and not move. If you tried to move him he would growl at you. He would especially growl at my father Carney Bell who was then playing the role of John Bell Sr. So I was there opening night, sitting on the front row. This black dog, which had yet to see me before, was laying on the stage before the show. When he looked up and locked eyes on me he sprung from the stage growling and running straight for me! I thought he was about to bite my leg off! Instead, he came right up to me and laid his chin down on my knee. Strangest thing I had ever seen. It just wasn't natural.
Who knows what might happen with so much fervor, family ties and raw emotions wrapped up in this year's production of SPIRIT it will be a "Must see to believe" type of show.
SPIRIT, The Authentic Story of the Bell Witch will begin production the last two weekends in October. October 21st – 23rd and October 28th – 30th. Written by local playwright David Alford will be held outside at the Bell School Pavilion in Adams, TN. Show time is 7:00pm. Tickets $15.00 for Adults and $8.00 for students. Tickets may be purchased online at www.bellwitchplay.com with paypal or in person at the Robertson County Chamber of Commerce, the Bell School in Adams or by phone at 615-696-1300. The Schoolhouse Cafeteria in the Adams Antique Mall will be open for dinner before each performance.
This year's production is being directed by Evelyn Blythe from Nashville, TN. With Lucy Bell being portrayed by Jane Stone, Lunden Ruhstaller as John Jr. and Emily Byrd as Kate Batts. Returning cast members are Adam El-Amin as Dean, Thomas Longo as Elder Sugg Fort and a host of other wonderful local and regional talent including another Bell family member Ann-Rickman Bell. Danny Proctor is serving as musical director. Reserve tickets now because they sell out quickly!
About Beth Britton
Sections
Area, News

Topics
Adam El-Amin, Adams TN, American haunting, Andrew Jackson, Ann-Rickman Bell, Authenticated History of the Bell Witch, Bell School, Bell Witch, Betsy Bell, Bob Bell, Danny Proctor, David Alford, Dean, Donald Sutherland, Elder Sugg Fort, Emily Byrd, Evelyn Blythe, Jane Stone, John Bell, John Bell Jr., Kate Batts, Lucy Bell, Lunden Ruhstaller, M.V Ingram, North Carolina, Red River, Robertson County, Sissy Spacek, SPIRIT The Authentic Story of the Bell Witch, Thomas Longo, War of 1812