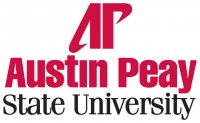 Clarksville, TN – Don't miss the 2010 edition of the APSU Percussion Ensemble Halloween Concert! This year's performance includes plenty of tricks and treats including guest appearances by Stanley Yates/guitar, Francis Massinon/harpsichord, Matt DeVore/drumset, Casey Brock/bass guitar, and Claire Davis/harp, as well as help from the Breaking Wind band and the Wailing Banshees chorus.
This year's concert is Friday, October 29th, 2010 at 6:00pm and 8:00pm in the MMC Concert Hall.  Admission is two cans of food (donated to Loaves & Fishes) or $3.00. Tickets are on sale at the Music Department office 931-221-7818. Get your tickets before they're gone! This one sells out!
The program includes music from the movies Halloween and Poltergeist and the television shows The Addams Family and The Munsters. Nods to the rock group Led Zeppelin include Black Dog and Bonham. There is classical music from Mussorgsky's Night On Bald Mountain and the classic electronic pop hit Popcorn. Pogo Sticks, by the computer music sensation Animusic, will also be performed.
Professor Steinquest has finally decided to recognize garbage can music as a legitimate means of musical expression; therefore, the masterpiece Noises On will be performed with guest garbologists Chris Brooks and Chris Crockarell as soloists.
The concert hall will be decorated and the performers will be in costume. There is special lighting and Mass Comm provides live feed video. As usual, Steinquest¹s costume is a matter of utmost secrecy. It is rumored President Obama texted him with a plea to clue him in. Steinquest's only response was, "srySI dnt txt L".
Photo Gallery
The 2008 Halloween Concert
Sections
Events
Topics
APSU Department of Music, APSU Music/Mass Communication Building Concert Hall, APSU Percussion Ensemble, Austin Peay State University, Casey Brock, Claire Davis, David Steinquest, Francis Massinon, Halloween Concert, Loaves and Fishes, Matt DeVore, Stanley Yates