Quinoa (pronounced "keenwa") is an ancient, versatile grain that tastes great and has a kicky little texture thing going. My family eats it in the whole grain form but you can often find quinoa pasta and even quinoa polenta.
Upon close examination, uncooked quinoa looks like a small, whitish disc-shaped seed. In fact, quinoa is technically a fruit from a plant in the Chenopodium family.  When its cooked the fruit/seed kind of unfurls and the ends up with a tiny seed and a small tail or shoot.
In the picture below of cooked quinoa from The Gluten-Free Chef site, you can see what looks like a radicle or root shoot unfurling from the main part of the fruit. Since quinoa isn't really a seed, that's not a root shoot you're seeing though, its just part of the fruit known as the 'equatorial ring'!  The fruit/seeds become somewhat translucent after they cook as well
Quinoa has been used for food for at least 5000 years in the South American Andes according to anthropologists and has just since 1985 experienced a new interest in the United States.  Because of its high protein content along with high levels of phosphorous, calcium, iron and vitamin E, the presence of several different B vitamins and its pleasing nutty flavor, quinoa continues to have a large following.
Quinoa has a coating of saponin that is slightly bitter to the taste. Before cooking quinoa it is recommended that you rinse it well in warm water. I use a small-holed colander for this. Some quinoa package labels say that you do not need to rinse because it has been pre-rinsed.
I have seen quinoa at The Country Pantry on Highway 181 in Kentucky, on the way to Elkton, and I have seen it periodically in other stores around Clarksville.  You'll have to shop around to find it.  You can find it online with a quick Google search.
Basic Cooking
Here are the basic instructions for cooking Quinoa
1 cup dry quinoa
2 cups water
1/2 teaspoon extra-virgin olive oil
1/2 teaspoon salt
Rinse quinoa in warm water and drain. I usually rinse 5 times in warm water.
In a medium sauce pan combine the ingredients
Bring to a boil, lower heat to a simmer and cook for 25-30 minutes.
Quinoa Taboule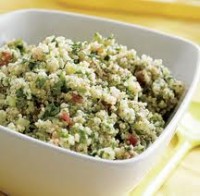 Here is an easy recipe for you to try called Quinoa Tabouleh.
Tabouleh is usually made using couscous. Here, I've used cooked quinoa in place of the couscous. The quinoa is perfect for this kind of side-dish.
2 cups rinsed, cooked and cooled quinoa
4 cups water
1 teaspoon extra virgin olive oil
5 bunches parsley, washed ( Italian flat-leaf is best for this)
1 1/2 bunches green onions
1-1/2 cups extra virgin olive oil
3/4 cup fresh lemon juice
2 teaspoons sea salt
Pull all the leaves off the parsley, discard the stems or use them for smoothies!
Chop parsley fine, either by hand or in food processor. Chop the green onions finely.
Mix parsley and onions with 7 cups of the cold quinoa, olive oil, lemon juice and salt.
Adjust seasonings to taste.
Chill.
Allow the flavors to blend for several hours before serving.
Just before serving, give the Tabouleh a stir to redistribute all the juices.
Serve it as a side-dish as- is, or serve on a bed of lettuce topped with chopped tomatoes and cucumbers as a salad meal.
Here is another recipe for you to try using quinoa…
Beef and Quinoa Skillet Dish
2 pounds ground beef
1 medium onion or 2 small onions, diced
4 cups soaked, cooked and cooled quinoa
2 to 3 teaspoons sea salt, or to taste
1/2 teaspoon black pepper, or to taste
1 tablespoon dried basil
Brown the ground beef in a deep skillet or pot over medium to medium-high heat. I leave it kind of chunky but you can break it up as small as you like.
Add the diced onions and let them saute.
Add the cooked quinoa, salt, pepper, and basil. Mix without smushing up the quinoa. Let it all come to a warm temperature.
Taste and adjust seasonings. Serve.
You can mix it up by substituting cumin for the basil.
About Sylvia Britton
Sections
Arts and Leisure
Topics
Cooking, Quinoa, Recipies, Taboule, The Country Pantry