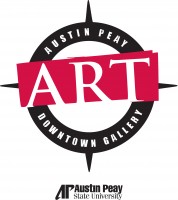 Clarksville, TN - All artists over the age of 18 and living in Montgomery County will get the opportunity next month to exhibit and sell their work publicly, all while helping to raise money for college art scholarships.
That's because US Bank and the Austin Peay State University Department of Art are hosting the 2011 Open Exhibition at the APSU Downtown Gallery from April 7th – 29th. The show, which has a $10.00 entry fee, is open to all local artists. All entries must be delivered to the gallery at 116 Strawberry Alley by 4:00pm, Saturday, April 2nd.
The money raised from the event will fund US Bank Scholarships for APSU art students. To date, 14 art majors at the University have received the scholarship. The exhibit has also honored the creative achievements of artists in the Clarksville community by presenting monetary awards to the winning works in different categories.
The categories for the exhibition include "amateur," for artists who have not received a professional art college or university art department education, and "professional," which includes artists who have received such an education and regularly sell their work. This category includes college art students. 
The show's award-winning works will be displayed the US Bank Public Square/Downtown Clarksville Office from May 3rd – 10th. Awards in each category include $300.00 for best in show, $200.00 for first place, $100.00 for second place and $50.0 for third place.
For more information on this exhibit, contact the APSU Department of Art at 931-221-7333 or visit the website www.artapsu.com/?p=1383.
Sections
Arts and Leisure
Topics
APSU, APSU Department of Art, Austin Peay State University, Montgomery County, Strawberry Alley, U.S. Bank