Extensive research and consultation yields latest update to city's world market projection.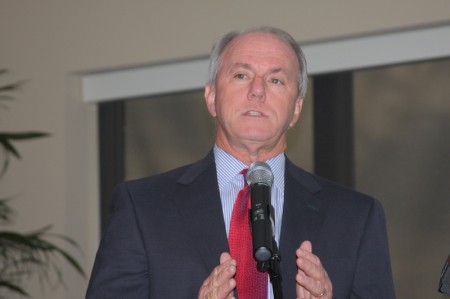 In a well-attended reception on the fifth floor of the new Farmers and Merchants Bank Tower, Clarksville Mayor Johnny Piper jubilantly invited the guests to witness the unveiling of the city's new brand. Branding is a marketing term that encompasses a municipality's slogan and logo as a unified identity characteristic. The invited audience was filled with luminaries of all stripes, to include Jim Durrett, the Mayor's Chief of Staff, State Senator Rosalind Kurita, Mayor Pro Temp Barbara Johnson, APSU President Tim Hall, City Council members Geno Grubbs, Deanna McLaughlin, Jim Doyle and Wayne Harrison, Arthur Bing of the Clarksville Transit Systems, C-MC Schools System Director Michael Harris, CPD Deputy Chief Frankie Gray, as well as Interim Co-City Attorney Tim Harvey.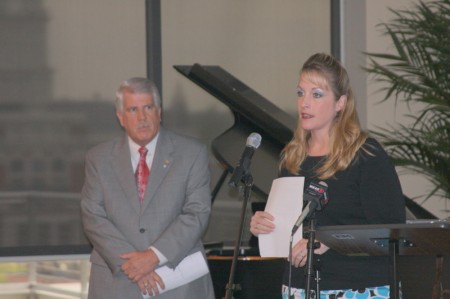 Mayor Piper opened the reception with welcoming remarks and thanks to the members of the City Council's Communications Committee which had worked so diligently on this project. Council members Deanna McLaughlin and Geno Grubbs gave the story of the development of this new brand. McLaughlin spoke of how the idea of a new brand came to be and development of the concept and focus which it should address. Grubbs added that committee members had worked through an extensive amount of public comment and input and then reviewed that data with the marketing firm of MMA Creative. Mayor Piper he was confident everyone would be impressive with the new brand/logo.
Council members Geno Grubs and Deanna McLaughlin address reception guests.
«Read the rest of this article»