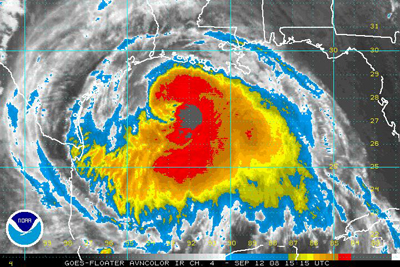 Hurricane Ike is hovering on the high side of a category 2 storm, and may reach Cat 3 as it slams Texas in the next few hours, with current winds pushing a storm surge deep into the shoreline of Galveston and other Texas communities. The storm reportedly has winds up to a Cat 4 level several hundred feet above the surface and a storm surge of 20+ feet, enough to inundate 100 miles pf the Texas Coastline.
Ike is also blowing gas prices through the roof as Texas refineries shut down operations for the duration of the storm, and possibly through the clean-up period that follows. Meanwhile, gas stations are cleaning out the wallets of drivers who will find a minute-by-minute escalation of gas prices that seem more like price gouging.
On Friday morning at 9 a.m., Clarksville Online Publisher Bill Larson paid $3.61 a gallon for gas just prior to a trip to Nashville. At the time, his gas station of choice was also limiting customer purchases to 10 gallons per visit, which felt a bit like wartime rationing. Larson and this author, all too familiar with storms, tried valiantly not to think what the day and "Ike" would bring; the reality was culture shock.
«Read the rest of this article»