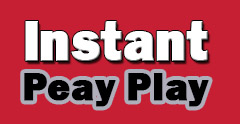 Clarksville, TN – Most of the time, when a college volleyball team has six incoming freshmen added to an overall roster that usually numbers between 12 to 14 you expect a certain level of growing pains.
But Austin Peay's volleyball team welcomes its sextet of newcomers to an already talented returning roster looking to make a run to an Ohio Valley Conference championship in November.
The six newcomers are by far the largest incoming recruiting class for fourth-year head coach Taylor Mott, whose teams have made the OVC tournament in each of her three previous seasons at the helm, including making the semifinals in 2013.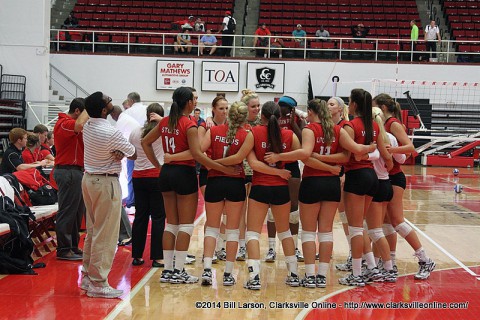 "It always takes a little time for the freshmen to get used to the speed of the college level," Mott said. "But they all come from good (high school) programs and they seem to be getting it quickly.
"We're not changing things to accommodate them, we're just trying to help them along and figure out what we're doing and they've done a very good job so far of doing that."
The six in-coming freshmen – Logan Carger (5-10/Huston, TX), Amanda Radich (5-10/Columbus, OH), Kaylee Taff (6-0/Houston, TX), Cecily Gable (6-0/Memphis, TN), Allie Thornton (5-5/Harvest, AL) and Kristen Stucker (6-0/Johnson, IA) – join a returning group of eight players, led by senior setter Aubrey Marsellis (6-1/Owasso, OK), who was named to the All-OVC Preseason Team and sophomore Ashley Slay (6-0/Nashville, TN), who was named to the 2014 All-OVC Newcomers Team.
"Yes were looking to the freshmen to add some depth to our roster, but we didn't graduate our entire team from last season," Mott said. "We have our middle's back and Aubrey will make a difference.
"Also Samantha Strother (6-0/Richmond, TX) will make a big difference on the outside and April Adams (5-6/Ashland City, TN) at libero, so we're not necessarily a young team playing wise, just roster wise."
Rounding out the returnees are Sammie Ebright (6-0/Sunbury, OH), Peyton Walker (5-10/Knoxville, TN), Christina White (6-0/Memphis, TN) and Kelly Ferguson (6-1/Lemont, IL).
"In our first four weekends (playing tournaments) we're going to try to get everyone a little bit of playing time and see who can do what," Mott said. "The OVC right now is a conference that is going to only get one bid to the NCAA Tournament, so wins and losses and RPI don't mean that much right now, but getting people as much playing time as we can and see who can get it done when it matters and that in conference play."
The Lady Govs open their season on August 28th at the Purdue Mortar Board Tournament, while OVC play begins on September 25th and the OVC Tournament on November 19th.
"You have to do well enough and finish high enough to make the tournament," Mott said. "Then it comes down to who plays well for those three given nights to see who moves on to the next level.
"Last year I think we got caught up in winning the OVC (regular season), with a great group of seniors that really wanted that so badly," Mott said. "But this year it's just taking one match at a time, focusing on playing the best that we can against every single opponent and not talking about the OVC Tournament until we have too."