Topic: Ruby Tuesday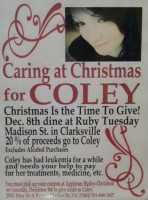 Clarksville TN – It's the season for giving, and there's no better gift, than the gift of life.  One Clarksville girl understands that all too well.  Coley Moore, a server at Ruby Tuesday, was diagnosed with the disease earlier this year and is in need of financial assistance to help pay medical bills brought on by the illness.
This Saturday, December 8th, when you dine at the Madison Street Ruby Tuesday, twenty percent of all non-alcoholic proceeds will go to Coley.  Coupons are available at Appleton Harley-Davidson on the 41-a bypass, and at Ruby Tuesday the day of the event.  The coupons are necessary to give Coley credit. «Read the rest of this article»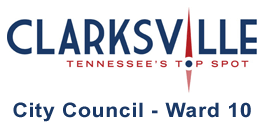 Clarksville, TN – In my article of September 14th, 2012, I mentioned the Madison Street/Hwy76-MLK Improvement Project Concept.  With this article I am letting the cat completely out of the bag.
I have been bouncing this concept around for a couple of years, gathering information and discussing it with our Clarksville Street Department engineers from time to time. «Read the rest of this article»
Clarksville, TN – The other item I wished to comment on for your info and consideration are efforts to fix traffic problem at Exit 11.  Many of you know that my efforts to gain stoplights at the Sango Road – MLK/Hwy 76 intersection go back to 2000.  A study effort request that I submitted on behalf of several neighborhoods back at that time did not support stoplights.
After being elected to the council in 2007, I made another request to have the area looked for traffic volume and stoplight needs.  Again the study did not support the need.  Around 2009 I again asked for a study from the state and it was performed.  It showed a greater volume of traffic but not for enough hours of the day. «Read the rest of this article»