Join us as we watch An Inconvenient Truth, the Academy Award winning documentary about the future of our planet.  This event will be hosted by Beth Robinson, recently returned from Al Gore's training on how to present this valuable information to the public. The event is free and open to the public. Feel free to bring snacks!
Friday, March 2nd at 7:00 p.m.

Unitarian Universalist Fellowship
3053 Highway 41A South, Clarksville
  «Read the rest of this article»

Von Heidecke's Chicago Festival Ballet performs its wonderful production of the Prokofiev ballet, "Cinderella," with choreography by company director, Kenneth Von Heidecke, in this full-length video from a 2005 performance.
In addition to touring "Cinderella" and other ballets throughout the Midwest, the company presents the holiday classic, Tchaikovsky's "The Nutcracker," in annual performances at the College of DuPage in Glen Ellyn, Illinois; at the Rialto Theatre in Joliet, Illinois, and at Harris Theatre for Music and Dance in Chicago.
A video used to be embedded here but the service that it was hosted on has shut down.
«Read the rest of this article»

Dr. Awadh Binhazim will speak at Austin Peay State University, Tuesday February 27, 2007 from 11:10 a.m. to 12:30 p.m. in the McCord Building – Room – 240.
Dr. Awadh Binhazim is a leader in Nashville's Muslim community and instructor on the subject for 12 years. Binhazim is president of Olive Tree Education; a nonprofit group in Nashville dedicated to Islamic education and outreach, and was raised in Kenya. He also taught courses on Islam at the Vanderbilt University Divinity School, Nashville. «Read the rest of this article»

On February 19th I was contacted by Helen Zia on her way here to do a story for The Women's Media Center about the 101st soldier being prosecuted for the rape and murder of a 14 year old Iraqi girl and murder of her family. See Helen's article at:
Polly Coe and I met with Helen briefly while she was here. She is a very kind and strong person, and she repeated what a great job we are doing here in Clarksville to be connected, aware and active in civil liberties. It was very nice to have someone of such magnitude interested in us and what we are doing. I could see through her eyes that we really are on the front lines so to speak. Anything we do here is a bold new step.
Helen asked me what the group I started; the Clarksville Freethinkers for Peace and Civil Liberties is doing next. I said we are evolving into this website to be connected, informed and entertained. «Read the rest of this article»

We all know the next target in George Bush's drive to trigger the Biblical Apocalypse is to invade Iran. Never mind the fact that we still haven't won in Afghanistan. Never mind that we are slowly but surely being driven from Iraq by sheer attrition. The British have already announced plans to remove many of their troops from combat in Iraq by the end of 2007.
So is this the next thing in military recruiting?
https://www.youtube.com/watch?v=a1tkuj5bEA8
Faux news: They report, You decide. LOL
But seriously if Bush launches an invasion of Iran the only choice they will have is to re-institute the draft. Once again the children of the poor will be sent to fight and die for our country while the children of the rich and powerful will be given deferments or cushy appointments to the national guard which they can proceed to go awol from. Yes if your family is rich enough and has the right connections, you too can be a deserter. Just like our current commander in chief was during Vietnam.
We know about the lack of proper body armor, the fact that they are putting troops in unarmored Humvee's, and now they are not even providing enough rifles, night vision googles, mortars, and howitzers. «Read the rest of this article»

An overview on the "Bill of Media Rights" as promoted and advanced by a large coalition of organizations and activists working towards a more democratic media system.
The program includes a point-by-point description of the principles inherent in it and required for a media system that is truly reflective of and responsive to the needs and interests of the public.
A video used to be embedded here but the service that it was hosted on has shut down.
«Read the rest of this article»

The memory hole, as in the phrase "Going down the memory hole," refers to a mechanism for censorship in George Orwell's novel, 1984.
In the novel, the memory hole is a slot into which government officials deposit politically inconvenient documents and records to be destroyed. 1984's protagonist Winston Smith, who works in the Ministry of Truth, is routinely assigned the task of revising old newspaper articles in order to serve the propaganda interests of the government.
For example, if the government had pledged that the chocolate ration would not fall below the current 30 grams per week, but in fact the ration is reduced to 20 grams per week, the historical record (e.g. an article from a back issue of the Times newspaper) is revised to contain an announcement that a reduction to 20 grams might soon prove necessary, or that the ration has in fact gone up to 20 grams from some lower number, in a deliberate example of doublethink. The original copies of the historical record are deposited into the memory hole. «Read the rest of this article»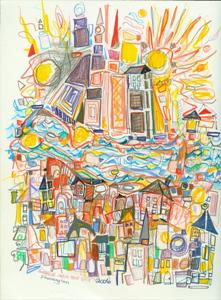 Please join the Downtown Artists Co-op for their annual gala fundraiser!!!
On Saturday, February 24th, 2007
Customs House Museum
200 S. 2nd St.
Clarksville, TN
6:00 Food, beverage, silent auction
7:00 Live auction
Tickets: $15
Email Peggy Bonnington or Gail Meyer for further information, directions, tickets, etc.
The American Rare Collectibles Association is visiting Clarksville Tennessee for the first time from Tuesday February 20th to and Thursday February 22nd. The event is free and open to the public.
The show will beheld at the Quality Inn Downtown, 803 N 2nd St, Clarksville, Tennessee 37040. Take I-24 West to Exit 11, then take State Route 76 South 5 miles to Hotel.
Professionals from the association will come prepared to give some of the highest offers in the world for your collectables.
A fierce competition takes place for rare, desirable and mint items requested by museums and collectors with disposable income. Some of the sensational prices collectors are paying include: $7,000 for a 1952 Gibson guitar. $3,000 for a Gang of Five Robot from Japan, $2,500 for a rare Civil war sword, $1,125 for a keywind pocket watch, 6 Buddy L 1920s Trucks $11,450, $20,000 for an Edison phonograph & Victrola collection. Your item(s) may be worth more or less. «Read the rest of this article»
Orwell rolls in his grave is the consummate critical examination of the Fourth Estate, once the bastion of American democracy by Director Robert Kane Pappas. Asking whether America has entered an Orwellian world of doublespeak where outright lies can pass for the truth, Pappas explores what the media doesn't like to talk about: itself.
Meticulously tracing the process by which media has distorted and often dismissed actual news events, Pappas presents a riveting and eloquent mix of media professionals and leading intellectual voices on the media.
Among the cast of characters in Orwell rolls in his grave are Charles Lewis, director of the Center for Public Integrity, Vincent Bugliosi, former L.A. prosecutor and legal scholar, film director and author Michael Moore, Rep. Bernie Sanders, Danny Schecter, author and former producer for ABC and CNN, and Tony Benn, former member of the British Parliament.
A video used to be embedded here but the service that it was hosted on has shut down.
«Read the rest of this article»