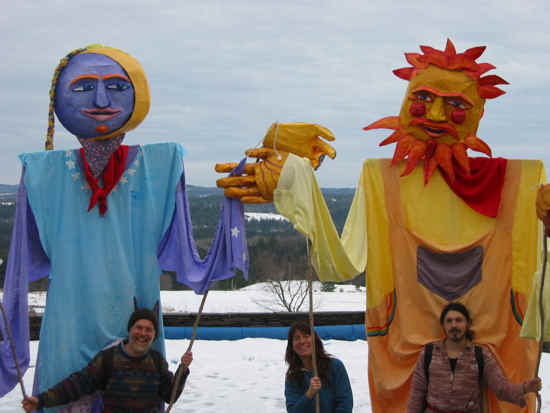 As I move about northern Vermont, with its rustic charm and innovative quirks, I stumbled across the upcoming SolarFest 2007 (July 14-15), an earth-friendly energy and music festival that draws about 4,000 people to the Forget-Me-Not farm in Tinmouth. Powered by the sun and bio-diesel fuel, the entire festival last year generated a walloping single trash bag of waste — EVERYTHING was recycled, composted or otherwise renewed.
Created in 1995, this non-profit has a microscopic bare bones administrative staff and a core of dedicated sponsors and volunteers promoting the best performing artists of the region and most importantly, the building of sustainable, earth friendly communities. «Read the rest of this article»
We've traveled to outer space already this summer. How about inner space now? With Pat Boone as a headliner, how could this version of H.G. Wells' Journey to the Center of the Earth be anything but a lightweight sojourn. James Mason is the dedicated Professor Lindenbrook, who believes another explorer, Arne Saknussen, has already reached the earth's core. He's got a rock with marking to prove it. Entering the earth through an Icelandic volcano, he is accompaned by a stocky Swede, a white duck, the widow of another explorer, and a student (Pat Boone). Along the way, they encounter prehistoric creatures, have a close encounter with a salt mine, and battle their way through a magma flow. Outrageous? Of course. That's the fun of it. (1959).
«Read the rest of this article»
Contact Bob Corker and Lamar Alexander and tell them it's time to put an end to the obstructionist tactics. «Read the rest of this article»
It was indeed a glad and gracious time, and the half dozen rash spirits that ventured to disapprove of the war and cast a doubt upon its righteousness straightway got such a stern and angry warning that for their personal safety's sake they quickly shrank out of sight and offended no more in that way. – Mark Twain's War Prayer

In the Leaf Chronicle today was an un-attributed editorial, for which any organization that prides it's self on having the highest journalistic standards should be ashamed for publishing. Their editorial paints those who disagree with the policies of politicians with the taint of not supporting the troops, of disloyalty. Indeed they proclaim that America would do well to heed the words of the commander of the 101st airborne division:
The last thing that you want to have happen is an Army in combat, with people saying that we really question what our government is having them do – Major General Jeffery J. Schloesser, the commander of the 101st airborne division
I could not disagree more. «Read the rest of this article»

I came alive again on the road in America, especially as I entered New England. It was an easy resuscitation: just wave restored buildings, green space and intelligent, environmentally conscious urban planning before my eyes and I'm yours.
As the bus pulled into the New Haven, Connecticut, station, I was able to linger a bit, using this rest stop as a place to pause and remember how much I enjoy this terminal. On the shoreline of Long Island Sound, the New Haven station serves both bus and rail from a large turn-of-the-century terminal now fully restored, its old wood sanded, polished and primed to perfection, marble floors gleaming in the filtered morning light and marble-tiled walls reaching high overhead. Not a splatter of graffiti anywhere. No litter. Neat rows of visitor information tucked in a hallway stood next to a small old-fashioned office where train schedules and tickets were dispensed. Walking into the station is not unlike walking into a museum where curators have restored a piece of architectural history with the most minute attention to detail. «Read the rest of this article»

The Republican controlled US Commission on Civil Rights has completely watered downed or eliminated much of the information we read or download from their website.
The current commissioners, who have very little experience or past dealings in the civil rights arena but were appointed by the current presidential administration, have shown that they intend to rubber stamp out anything that does not support the party's agenda and ideology of valid civil rights information to disseminate to the public. «Read the rest of this article»

Peace and justice groups, anti-war websites and thousands of individuals are banding together on my space for a 4th of July "CyberRally for Peace." FreeThinkers for Peace and Civil Liberties will have the peace candle prominently displayed on their new myspace website for several days before returning to the current image of candles at downtown Clarksville's Eternal Flame.
The equivalent of major peace march, the rally is a cyberspace version of traditional social action and participation is simple. Organizers from a dozen myspace sites are asking individuals and organizations with my space or other sites that have "default" photos to switch out those photos for peace signs and peace candles for July 4th. «Read the rest of this article»

I've been on the road in America. Covered 1440 miles of it by Greyhound bus in three days, a "milk run" that snaked through dozens of small towns, by acres of farmland, and through the crumbling parts of cities on routes that buses and trains always take. Not usually the upscale parts of town. Not the places with nearby airports and extensive shuttle services.
I'm on the road in America, landing first at a rural college with small enrollment and lots of land, a place where creativity is nurtured, differing opinions are expected, and everyone is asked to think "outside the box." It where, when I mentioned writing for an "alternative news site" and my participation in peace and anti-war activities, I was gifted with a burst of applause.
I've been talking to Americans as I ride the bus across a fair-sized chunk of America It's been an adventure. It always is. «Read the rest of this article»

Al Gore rocks.
On July 7, more than 2 billion people will join together to watch the Live Earth concerts and demonstrate to our leaders that the time has come to solve the climate crisis.   NBC will be televising Live Earth and even more extensive coverage will be available on MSN. 
More than 4,000 people have scheduled Live Earth House Parties in over 80 countries.
Live Earth is only 12 days away.  Schedule your own house party or search for one near you.  
To host a party:   http://joinliveearth.org/gore
To find a party close to you:  http://www.friendsofliveearth.org/page/event/search_simple
The Nashville Peace and Justice Center is a community-based coalition of organizations and individuals working to promote equity and to create a peaceful, just, and sustainable society through reflection, education, and non-violent action.
Peace & Justice E-Blast
For the week of June 23 – July 1, 2007
Peace actions to end the Iraq War
Joyce Kisner — Monday Night Vigils on Any Corner (every Monday)
Every Monday – 6:00 p.m.
ORIGINAL CORNER: 14th and Eastland in East Nashville
SECOND CORNER: At the Wendy's on West End Avenue , across from Centennial Park
There is no end date set for these vigils. Please join Joyce and others at the corner of 14th and Eastland in East Nashville every Monday night at 6:00 p.m. — or at that same time at ANY corner that works for you. Wouldn't it be cool if throughout Nashville on Monday nights at 6:00 p.m. a growing number of vigils were happening on corners all around the city? Hey, why not throughout the state… even the country! To post a new corner address on the NPJC E-blast in the near future, send an email to Tamara, «Read the rest of this article»