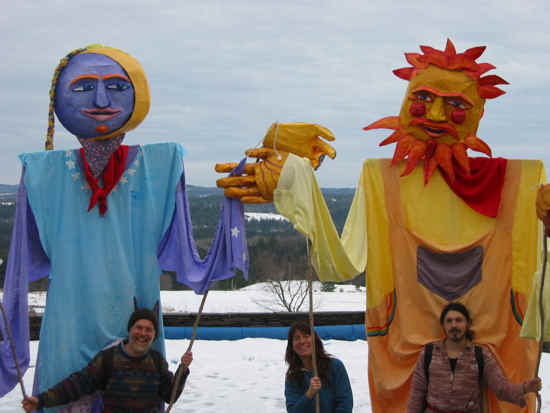 As I move about northern Vermont, with its rustic charm and innovative quirks, I stumbled across the upcoming SolarFest 2007 (July 14-15), an earth-friendly energy and music festival that draws about 4,000 people to the Forget-Me-Not farm in Tinmouth. Powered by the sun and bio-diesel fuel, the entire festival last year generated a walloping single trash bag of waste — EVERYTHING was recycled, composted or otherwise renewed.
Created in 1995, this non-profit has a microscopic bare bones administrative staff and a core of dedicated sponsors and volunteers promoting the best performing artists of the region and most importantly, the building of sustainable, earth friendly communities.
Solar Works is the war cry of SolarFest organizers, who offer proof positive that we can power the world with renewable resources. But it does take conscious effort. Public awareness. Visibility. To that end, SolarFest organizers offer the Solar Roller and the Lightning Bug are custom trailers with solar arrays, batteries and inverters, and have helped power festivals throughout New England.
SolarFest combines "superb family entertainment with presentations by some of the region's most knowledgable renewable energy experts. We thicken the mix with workshops on sustainable living, a special children's activity tent, and an assortment of craft, food, energy and sustainable living vendors. There is much room for 'serendipitous encounters,"' learning, relaxation, and celebration of the sun."
Bill McKibben, author of The End of Nature, one of the first books addressing climate change, and Deep Economy: The Wealth of Communities and the Durable Future, which challenges the "growth economy" and visions a return to local economies, is one of two keynote speakers at this summer's event. He organized the largest national demonstration to date on climate change, which placed demands on Congress to support legislation to reduce carbon emissions. (info at stepitup07.org).
Joining McKibben is Middlebury College Professor John Elder, author of Mountains of Home and The Frog Run. His works also also published in Vermont Life, Orion, New Literary History and Wild Earth. he is a board member of Vermont Land Trust and is currently writing In Hardwood Groves, on maple sugaring.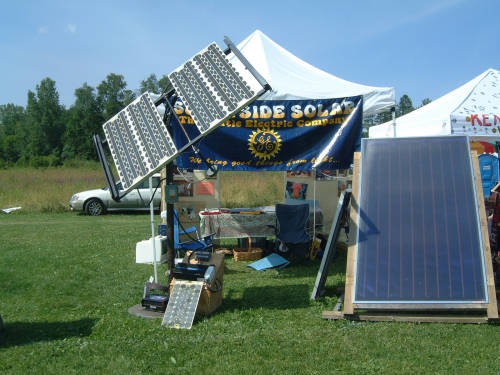 Workshops offered include sessions on generating electricity for your home trough solar and wind power, including assessment procedures and technology options; photovoltaic home energy systems, micro-hydro systems for your home, alternative fuel transportation (electric and hybrid vehicles), "green" building practices, straw bales construction and timber framed construction, recycling building materials, biofuels and climate change, community supported energy, waste treatment systems, and historic preservation.
The program also offers discussions of "human health as it relates to the pursuit and development of secure and sustainable communities" with emphasis on the role of women in promoting sustainable communities. Peace activists join the discussions, taking the stand that peace and sustainability are irrevocably linked. They will also view the impact of climate change on sustainability.
Other discussions will look at nutrition, passive food storage, and a trend to buying locally grown produce and food products, and the sustainability of the family farm.

Performances range from folk and acoustic solists and bands to the performances of the interactive, vibrant and colorful Jeh Kulu Dance and Drum Theater with its music from Senegal, Mali, Guinea, and West Africa, the magical Young Performers Creative Dance Company (pictured at right), the Celtic music and storytelling of Jennings and Ponder, and Puppet Pageantry (All Species Puppet Troupe).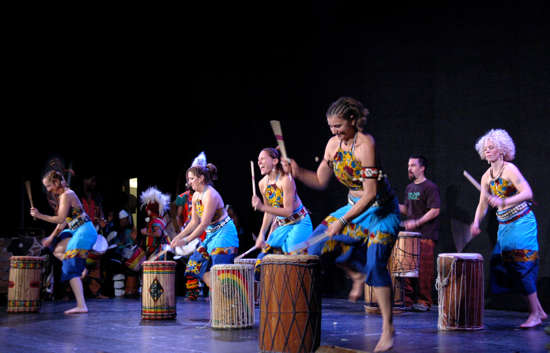 Jeh Kulu Dance and Drum Theater
For more information on SolarFest 2007, contact info@solarfest.org.