Once upon a time there was a spooky old mansion, and a spooky old family, with a spooky old secret. Barnabas Collins, TV's first daytime soap opera vampire and acclaimed star of the 1960's daytime hit, Dark Shadows.
I'd get out of high school at 3, race home across the bridge from Holyoke to Chicopee in time to catch the opening credits, and when the closing credits rolled at 3:57 p.m., race three minutes to my job I had to be at work at 4. But I, like most of my friends, were obessive-compulsive about Dark Shadows and Barnabas Collins. Even my mother was lured from her "I never watch daytime TV" stance to stand in the parlor doorway and keep a wary eye on everyone's favorite vampire.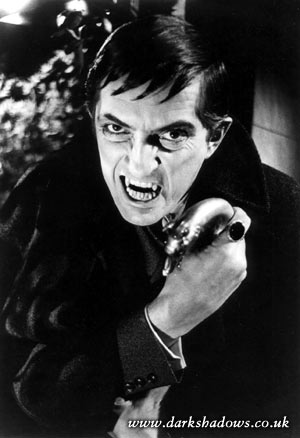 My friends and I lived for Barnabas Collins. He could bite my neck anytime. Quentin (a younger dashing vampire) was cute, but I always had a 'thing" for older men, especially ones with fangs. Canadian actor Jonathan Frid ( right), with his angular features, deep dark eyes and those oversized eye teeth, created the aloof, romantic master of the house.
Hauntings on Dark Shadows began about six months into the series, and skyrocketed to popularity when Frid made his appearance as a vampire about a year into the show, which arrived on the soap scene in 1966.
The story begins with the beautiful young governess, Victoria Winters, arriving at the mansion to serve as governess to young David Collins. Carolyn Collins, daughter of the family, is a wild one, a party girl out of control. Her father Roger suspects he is the target of a murderer, and the handsome Burke Devlin — protagonist, antagonist — has arrived in town.
The stage is set, and the romp begins, with werewolves, witches, warlocks, time travel, parallel universes, and of course, lots of cobwebs and shadows and secrets. Many of its actors played multiple roles as the storylines overlapped and folded over each other.
A body is found floating in the waters below Widow's Hill, the ghost of Josette appears, and the wailing of ghostly women can be heard from the previously mentioned Widow's Hill. The series blatantly jumps into immortality with a Phoenix rising, and then comes the turning point: Barnabas, emerging from his coffin after 200 years, searching for the re-incarnation of his beloved Josette. the series exploded into public consciousness.
Charges of witchcraft, the occasional murder, rampant hauntings, ghostly gatherings, lycanthropy and time travel move characters and stories back and forth through time and mythology, sucking in viewership with every groundbreaking TV step, that, in true soap fashion, made every daily episode a "cliffhanger."
The show ran five years and every episode is available on DVD for home viewing. Actors such as Johnny Depp were inspired by the Jonathan Frid portrayal of Barnabas (you can see the influence in some of Depp's roles). Frid brought a Shakesperean background to the role and it showed in diction, movement, and his characterization.
The show is a cult classic with a Star Trek-like following that holds conventions and gatherings, and sustains websites to keep Dark Shadows alive and thriving. And the timeless Barnabas could still come bite my neck anytime.