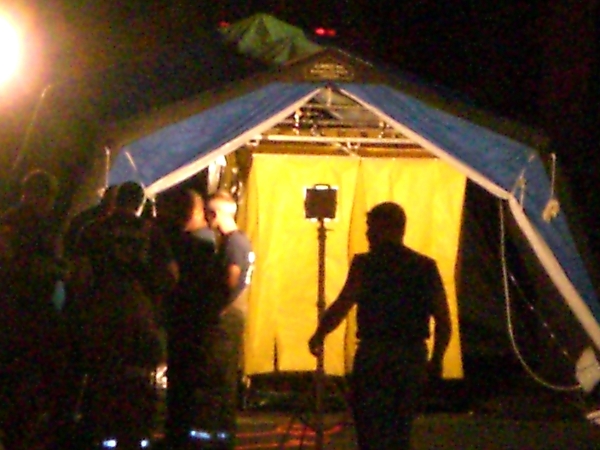 When Clarksville resident and APSU student Sandy Shirley signed on for a 'ride along' with the Clarksville Police Department, she had no idea she'd spend the evening locked down in the station, waiting for clearance from Emergency Management officials and a determination that a white substance brought into the station was– or preferably – was not a contagious virus such as smallpox.
Shortly after 7 pm. a young man walked into the station on Commerce Street with a package with a white powdery substance and possibly a syringe. Unconfirmed reports state that a syringe labeled smallpox fell from the package, confirming much of what Ms. Shirley witnessed. At one point she was a mere five feet away from the young man carrying the substance.
Response was immediate; the building and its staff and visitors were locked in and the rest of the world locked out. Within ten minutes, Commerce Street was closed to traffic, four fire engine, assorted EMS vehicles, an ambulance and numerous cruisers lines the street and parking areas. A decontamination station was erected near a department entrance, but then it became a case of hurry up and wait in the hot humid evening air. Wait for word on what the substance really was, and if it posed a real threat. «Read the rest of this article»
The Clarksville Police Department on Commerce Street was locked down shortly after 7:30 p.m. after a young man walked into the department with a "suspicious" package possibly containing smallpox. Within minutes the City's Rescue Squad, Fire Department and Homeland Security vehicles arrived on the scene. No one, police officers or civilians, was being allowed into the building, or allowed to leave. The police could not yet confirm definitely that the substance was smallpox virus.
Clarksville Online contacted the department but officers refused to comment on this breaking story or events leading up to it.
A witness to the event, calling from the station after the lock down, reported being told by police that they believed the substance in question to be smallpox virus and would have to wait out the investigative process.
We will continue to follow this breaking news story. A press statement is expected at approximately 8:40 p.m.
Rochelle LaPlante arrived at Northeast High School for her second day as a member of the senior class, not knowing if she would be allowed to attend class or face suspension for her hair, which is a non-traditional color: purple.
On Thursday, when she arrived for her first day of classes, she was told her hair color was not acceptable, with specific reference made to her working in the school office as an aide. The implication was that purple hair and the school office weren't a good mix, despite the fact that she is an excellent and well-liked student and perfectly capable of doing the job.
This morning (Monday), though, she arrived to silence from school administrators on the issue of her hair.
"No one said a word," Rochelle said, noting that criticism was conspicuous by its absence. Rochelle moved through her day peacefully, including office time spend delivering items to staff mailboxes. "It was as if they didn't even want to look at my hair," she said. After all the hoopla over her color purple, "nothing happened," Rochelle said. "At least, not yet." «Read the rest of this article»