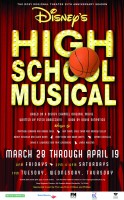 I always brag about the fact that I saw the Roxy Regional Theatre's performance of Footloose 17 times. It was exhilarating, every single time. Well, I've found something that has got that performance beat. It's the brand new Roxy performance of High School Musical. I attended a dress rehearsal of the show, and I could barely stay in my seat by the end.
The show is choreographed by Michael Hartman, and features a long list of local talent from our Clarksville area high schools, along with outstanding performances by the professional actors. It's a truly wonderful time with singing and dancing.
Oh what a theme! It's okay to be different! It's okay if you don't fit in with the "status quo." I really love it. I had no idea that was the point of the story as I had no interest in watching it on TV. What is also great about this show is that the kids are sincerely having a great time up on stage. They are really into it.
I sat in the audience almost in tears at the way that the young adults gave it their all!. Their dedication showed through their acting. They projected a confidence that says it's okay to be really into something (like this production). They are able to do this because they have stopped worrying about what other people think; they can say to themselves "I am good at this." It's a mother's dream come true.
High School Musical plays 8 pm on Fridays, 2pm and 8pm on Saturdays, and 7 pm on Tuesdays, Wednesdays and Thursdays. High School Musical will be running at the Roxy Regional Theatre through April 19. Make your reservations early; this weekend is already sold out. You'll want to see it again and again. Call (931) 645-7699 for tickets or visit http://www.roxyregionatheatre.org/