The American Red Cross responds to fires; they are not usually the victim of a fire.
That changed early this morning when the American Red Cross Emergency Response Vehicle[ERV] was set afire by an arsonist outside their Riverside Drive office. The vehicle and its contents were destroyed. Just yesterday, the ERV was "packed tight" with emergency supplies and equipment for a first aid station at the Rivers and Spires festival, which begins today.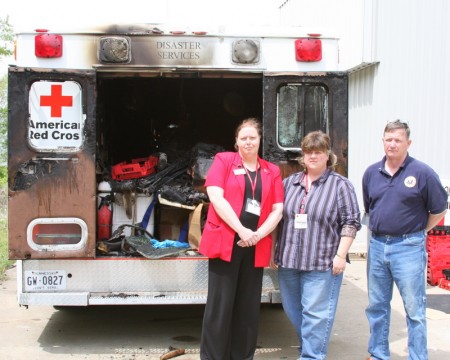 From left, ARC Executive Director Linda McCoy,Health and safety Director Patricia Brown, and Emergency Services Director Cecil Stout stand before the ERV that was completely destroyed by fire (arson) this morning.
Cecil Stout, Director of Emergency Services, said "our equipment was inside, loaded for [the festival], including a $1500 trauma kit." Stout said the Red Cross is now seeking a replacement vehicle and has been gathering prices.
Red Cross workers were notified of the organization's local 'disaster.' Stout said:
"Amidst the excitement of being awakened by an earth quake this morning we had the Emergency Response Vehicle broken into and set on fire. The vehicle has been destroyed. We will go on with business as usual. The truck had been loaded with supplies for Earth Day on Ft. Campbell and we also have a booth at Rivers and Spires today. The volunteers that had planned to be at Ft. Campbell this morning are already on site and set up. River and Spires is still a go."
Stout said the agency "will adjust our supplies and equipment for future operations but we are the Red Cross and we will adapt. DAT [Disaster Action Team] Captains will be driving their own vehicles once again."
A $1500 trauma unit was part of the fully stocked ERV unit packed yesterday for the Rivers & Spires festival. the equipment is a total loss.
Stout inventoried items on the vehicle and the insurance company contacted.
Clarksville Fire and Police have a arrested Eric John Waye, 38, who has been charged with burglary and one count of arson. Waye reportedly burglarized Southern Secrets in addition to the break in and arson of the Red Cross vehicle.
The Red Cross depends on community contributions to sustain its efforts. It is volunteer driven, with a core of dedicated and heavily trained community volunteers who respond year 'round, day or night, to everything from fires to natural disasters to search and rescue operations.
You can make a donation to the Clarksville-Montgomery County Chapter of the American Red Cross by mailing a check to 585 S Riverside Drive, Clarksville TN 37040 or donate to RC at Online at http://----escape_autolink_uri:4fd7ce7a50974d92fa808572bc5ce6de----
On a personal note:
Having been both a recipient of Red Cross disaster services and a volunteer for that organization, I have a unique appreciation of this agency and all it does for our community. To have this agency targeted for mindless destruction, quite frankly, stunned me. Though I am still recovering from a prolonged illness, this was one story I chose to write myself from home.
The Red Cross made an incalculable difference in my family's life when our home burned in 2006. Once recovered from our own disaster, I watched as these selfless volunteers worked with dozens of others whose lives were devastated by fires and other natural disasters, providing support and encouragement in multiple ways.
It's tough to run any organization on donations and volunteers, but our local Red Cross does it and does it well. It is their turn to seek community support. I hope that:
The arsonist is caught and prosecuted to the full extent of the law
That the community responds by donating to this honorable organization to help them replace the supplies and equipment lost.
That one of the many auto/truck dealerships in town would consider donating a vehicle [if not an official ERV, then an equally needed SUV for transporting supplies and personnel to disaster scenes and training programs]
It seems to me that with the virtually unchecked growth and rapid expansion of our community, the need (sadly) for Red Cross services will only increase. It is time for the community and its businesses to show its appreciation for the Red Cross by stepping up to the plate and donating in whatever way they can. Fore, flood, tornado, earthquake … You never know when that Red Cross crew may turn up outside your door. You'll be glad they came.
When disaster hits home…what is left of the Red Cross ERV: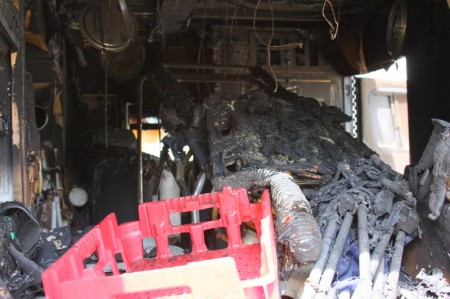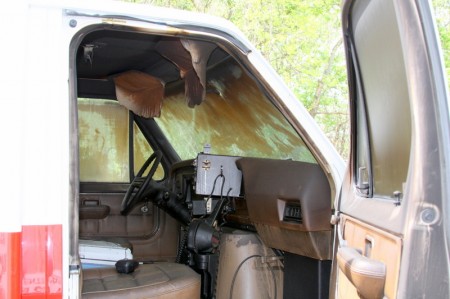 Photos by Bill Larson