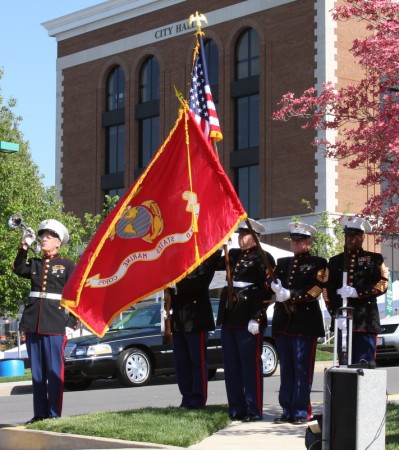 Rivers & Spires, an award-winning festival with live music, activities for the kids, and great food, returns to Clarksville for its fifth season. Rivers & Spires is staged on every street corner in historic downtown Clarksville and at Riverfront Park.
Rivers & Spires Festival orginated in 2003 as a tribute to the soldiers of the 101st Airborne Division who, at the time, were returning from a deployment. Since then, it has continued to honor the community's heritage by paying special tribute to Fort Campbell soldiers, many of whom are are currently deployed overseas, and their families.
The 2008 event opened with a re-igniting of the eternal flame on Public Square. Before the ceremony, I was reassured by City Councilor Geno Grubs that the flame, which has been off more than on over the past year, had been snuffed by a mechnical problem, and not by a city trying to save money or "the wind blowing out the flame."
An impressive ceremony was held at the Pillar of Clouds, Pillar of Fire monument,with a color guard and numerous city and Fort Campbell officials present.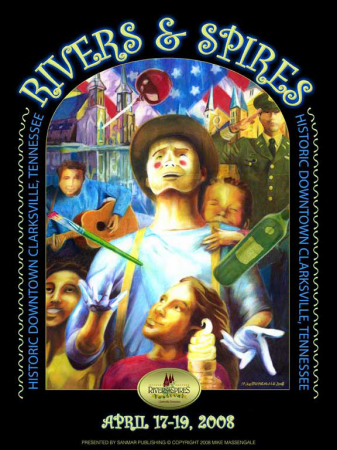 Thursday evening was also designated APSU night, one of the main highlights was the fact that DJ $crilla was to present a song written for Austin Peay State University. He was chosen last fall by the Govs Programming Council to write an original song for APSU. He has written songs for other universities, including George Washington University, Louisiana State University and Vanderbilt University. $crilla also performed other original songs written in honor of various Greek organizations. University President Tim Hall attended the performance.
Austin Peay State University was also one of the signature sponsors Rivers and Spires this year. Many of the volunteers are APSU students, faculty and staff.
Also performing Thursday night was singer/songwriter Josh Phiffer, who grew up in a musical home immersed in his parents love of music. Now 21, Josh brings this history to the stage. His rich musical heritage and wide range of influences is evident in his melodic songwriting, his tasty, adept guitar playing and on-stage presence. He has an uncanny knack for putting the audience at ease and welcoming them into his world. Over the past year, Josh has been touring around the U.S., playing over 150 shows, opening for such bands as Rookie of the Year, This Day, and Age, Making April, Foreverinmotion, Long Since Forgotten, All the Day Holiday, Get Your Guns and A Plea for Purging..
Cypher Addicts Crew, a group which is composed of APSU students also was one of the spotlighted performers of the evening.
Schedule and map
The schedule of events, performers, and a map showing the location of each of the 6 stages is available on the Rivers and Spires official web site.
Photo Gallery for Thursday