Summer is finally here and that means it's time for pools to open. Clarksville's pools open June 1. The Parks and Recreation office will be open May 31 from 10:00 a.m. to 2:00 p.m. and June 1 from 1:00 p.m. to 3:00 p.m. for pool pass sales only. The office is also open regular hours weekdays from 8:00 a.m. to 4:30 p.m. Crow and Kleeman Community Centers also sell pool passes. Please check with these community centers for a schedule.
Summer Youth Program gyms open on June 9 for six weeks of free summer fun for children ages 6-16. Locations include: Burt-Cobb Community Center, Crow Community Center, Kleeman Community Center, Barksdale, But, Glenellen, Hazelwood, Liberty, Minglewood, and St. Bethlehem Elementary Schools, Summit Heights and Caldwell Lane Housing Authority sites, and New Providence Outreach Center. Sites are open Monday through Friday 9 a.m. to 3 p.m. except Caldwell Lane which is open 10 a.m. to 2 p.m.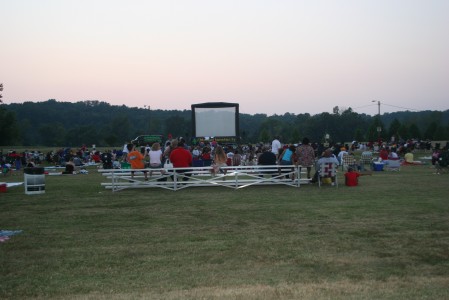 The first Movies in the Park of this season will show on the big screen at Heritage Park Saturday, May 31. The Clarksville Jaycees have planned lots of fun pre-show activities for the Jaycees' Kid Day events beginning at 5:30 p.m. and the movie will begin at dark. This month's flick is about a little buzzing insect named Barry B. Benson. Movies in the Park is a free event and is great fun for the entire family.
The Eighth Annual TWRA and City of Clarksville Youth Fishing Rodeo will be held at the Fairgrounds Park duck pond on Saturday, June 7. This event is free and open to the public, and does not require a fishing license. Pre-registration forms are available at most sporting goods stores in the area. Registration starts at 7:15 a.m. The pond gets crowded quick so come early to claim your spot. The first round of fishing starts at 8:00 a.m. and lasts until 9:00 a.m. for ages 9 and under. Ages 10 to 16 get to fish from 9:30 to 11:00 a.m. You are allowed one fishing pole per participant and sorry parents, you can't fish, only assist in baiting, casting, or taking the fish off the hook.
In addition to tons of summer games and arts and crafts activities, children can take dance, karate, tennis and golf lessons or join the Roxy's Summer Playhouse program (requires a $30 fee). Plus Fridays are free swim days and each child receives a free nutritious lunch daily. For more information, call the Clarksville Parks and Recreation Department at 645-7476.
The Parks and Recreation office and all community centers will be closed Monday in observance of Memorial Day. Everyone have a safe holiday weekend and enjoy the sunshine!
Sections
Arts and Leisure, News

Topics
arts and crafts, Clarksville Department of Parks and Recreation, Movies in the Park, pool passes, swimming pools, youth fishing rodeo