What was supposed to be the first sponsorship of its kind for Woman vVeterans of Tennessee was doused by downpours at the Fort Donelson National Battlefield and Cemetery on Monday. The rain failed to dampen the spirits of the servicewomen, who simply opened up dozens of red, white and blue umbrellas and kept on smiling.
"We'll be back next year," they promised.
It was to have the first time a women's group hosted the event, in this case reflecting the combined efforts of the Women Veteran's of America Chapter 20, the Women Veterans Network and VA Tennessee Valley Healthcare System. The women veterans reflect every branch of the armed forces except the Coast Guard.
As local boy scouts and veterans from other groups huddled in the shelter of a porch, a laurel wreath and a neatly folded flag lay unruffled on a porch swing out of the rain.
First Sergeant Carleen D. Robertson, USAF retired, of Paris, Tennessee, was scheduled to give the keynote address. Sgt. Robertson served 18 years as an Air Force recruiter and holds service awards including the Meritorious Service Medals with two Oak Leaf Clusters. She served during both the Korean and Vietnam conflicts, from 1950 to her retirement in 1975. She has been stationed in Japan, England, Alaska, Germany and Hawaii.
Although the stage was set for a moving memorial service honoring all veterans, the rains came and park officials nixed the ceremony as thunder rumbled and lightning flashed overhead. The umbrellas popped open, but rain failed to dampen their spirits as they gathered to pose for a ceremonial picture. They also vowed to return, same time next year.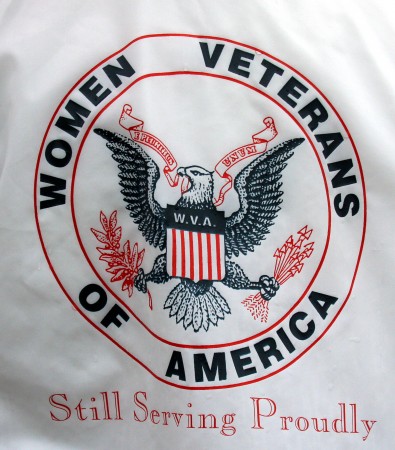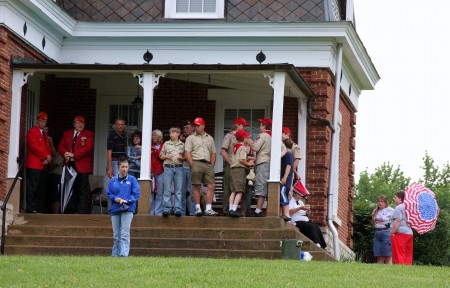 Photos by Bill Larson