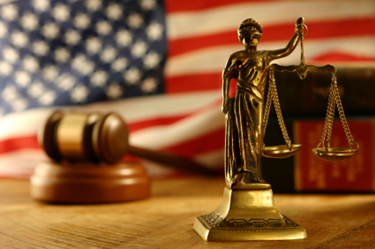 With Judge Ross Hicks having recused himself from a libel lawsuit related to redevelopment issues in Clarksville, pending, the August 4th hearing in Montgomery County Circuit Court on this controversial suit is on hold, awaiting assignment to another judge. Judge Hicks' recusal, which can be based on a conflict of interest, follows on the heels of a reversal of the previsous dismissal of this case.
Two weeks ago in the Montgomery County Circuit Court, Judge Hicks dismissed a libel suit filed against the grassroots Clarksville Property Rights Coalition regarding downtown redevelopment, but on July 29 the Court notified the Institute for Justice of Virginia, CPRC's legal representatives, that the signing of the order was "a mistake," that oral arguments and discovery in this case would be heard August 4. Judge Hicks recusal canceled scheduled hearings in that matter and the lawsuit is, for now both resurrected and in limbo.
The case, borne of a highly controversial ordinance passed by the Clarksville City Council in November, 2007, that "blighted" some two square miles of downtown Clarksville, culminated in a libel suit over a newspaper ad taking some city officials to task for their actions in supporting the ordinance that potentially opened the door for taking of properties by eminent domain and for private development.
In this case, Richard Swift, a developer who is a member of the Clarksville City Council, and Wayne Wilkinson, a member of Clarksville's Downtown District Partnership, sued the CPRC because its members criticized them for supporting Clarksville's controversial redevelopment plan, which authorizes the use of eminent domain for private development. In a newspaper ad, the CPRC noted that both Swift and Wilkinson are developers and said, "This Redevelopment Plan is of the developers, by the developers, and for the developers." IJ represents the CPRC in the case. Jerry Martin of Barrett, Johnston & Parsley in Nashville serves as IJ's local counsel.
The grassroots CPRC formed quickly to lobby on behalf of the 1800 residents and small business owners living and working in that district. Public meetings were standing room only. (see related Clarksville Online stories and documents on this issue by clicking the black "blightville" box on the right side of our homepage.)
The court's original and "erroneous" dismissal of the case was quick: the decision came down less than three weeks after the Institute filed a motion to have the case dismissed. In fact, the court did not even wait to hear a response from Swift and Wilkinson's attorney or have a hearing on the motion. Then came the reversal of that ruling, and now the recusal of Judge Hicks. Clarksville Online will continue to follow this story as it develops.