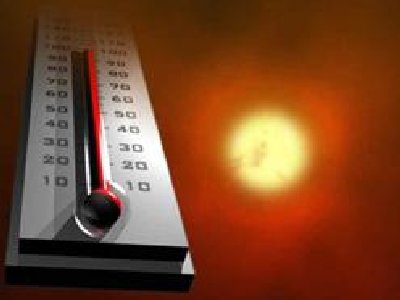 Read the forecast…Saturday, 95. Sunday, 93. Monday, 97. Tuesday, 98…
Clarksville's high Friday, the first day of August, to topped out around 96, and with a dew point of 71, that spelled "muggy," a suffocating summer heat conquered only by air conditioning or a cold water spring. The "dog days of August" arrived right on schedule.
These forecast highs are listed by the National Weather Service for the next four days. Lows will hover in the low 70s. Any three days straight with temps at 90+ constitutes a heat wave, and this is it. The forecast, though, takes the heat one step further by adding a heat index tied to humidity. That's the "feels like" temperature, and that will reach as high as a dangerous 105 degrees in the coming week. In downtown, mall and heavily paved areas, that "feels like" high race even higher.
With that in mind, the NWS issued a preliminary warning, an advisory urging people to be aware of the risks heat poses. Heat exhaustion and heat stroke are serious medical reactions to heat that require immediate attention. People are urged to avoid strenuous activity in the mid afternoon, which is the hottest time of day, and to remain hydrated by drinking plenty of fresh water. If you have to be out, carry bottled water and apply sunscreen. Seek shelter in an air conditioned space whenever possible. If you have elderly neighbors or relatives, check on them to make sure they are protected from the heat.
It is equally important that outdoor pets be provided with plenty of fresh water and a shady place in which to beat the heat.
In the aftermath of numerous incidents of young children being left unattended in cars in Clarksville, parents are reminded that heat kills; the interior of a closed car can reach 140 degree in a matter of ten minutes. never leave a child or pet unattended in a car in this kind of summer heat.
Warning signs of heat exhaustion include heavy sweating, paleness, muscle cramps, tiredness, weakness, dizziness, headache, nausea or vomiting, and fainting. This condition often occurs when people exercise (work or play) in a hot, humid place and body fluids are lost through sweating, causing the body to overheat. The person's temperature may be elevated, but not above 104°F.
Warning signs of heat stroke include rapid heartbeat, rapid and shallow breathing, elevated or lowered blood pressure, cessation of sweating, iIrritability, confusion or unconsciousness, feeling dizzy or lightheaded, headache, nausea or fainting, which may be the first sign in older adults.