Local community group commemorates the Emancipation of Tennessee Slaves with song, prayer, folk dancing, political awareness and fun.
On Saturday, Fairgrounds Park was the site of Progressive Citizens Advocates' 6th Annual African Street Festival. The event commemorates the emancipation of Tennessee slaves during the Civil War. That historical context is the motivating background of this colorful family-centered community celebration. While an appreciation of the historical perspective of the one-day festival is crucial to its organizers, the festival itself offers far more than a review of a bitter time period of American history.
From its originating start on the campus of APSU, the festival has grown and evolved to include participants from a diverse cultural background. The festival provides an opportunity for reflection on contributions made by African Americans, the history of the Motherland Africa and its early rulers and leaders and the ongoing struggle of African Americans and other minorities as they strive to achieve the American ideal. Performers have ranged from a showcase of local rappers and R&B artists to Polynesian Firewalk Dancers to this year's Ballet Folklorico Viva Panama, the art of the diverse elements of the Clarksville and Montgomery County community has always played an important role in the festival celebration.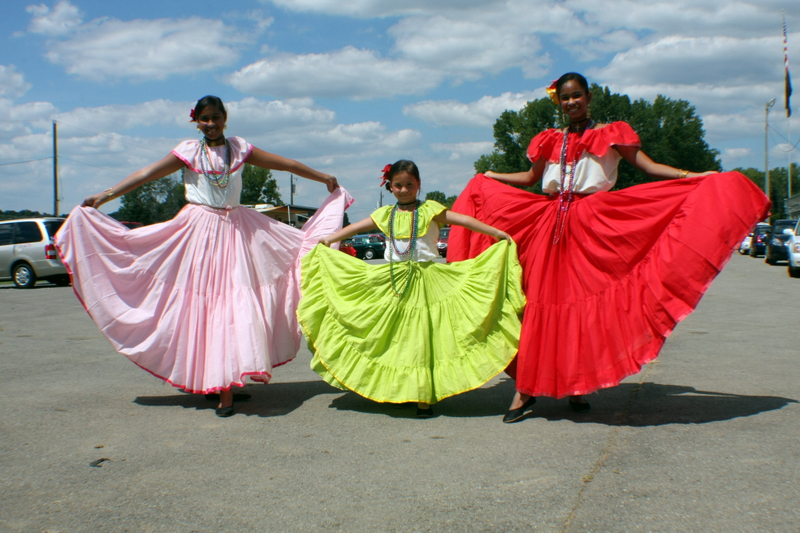 From the opening prayer to the closing evening dance the festival program held a myriad of choice activities. Health information and awareness outreach was available at the Clarksville Area Ministers Technical Assistance Network, CAMTAN, station. Information on health ailments troubling the minority communities, such as diabetes, high blood pressure, colorectal cancer, breast cancer and obesity, was on hand. HIV/AIDS prevention and treatment assistance information was also there. Pastor James Hill serves as the senior executive director of the CAMTAN outreach serving Montgomery, Stewart, Robertson, Dickson, Houston and Humphreys Counties. HIV/AIDS infection rates correlation, treatment assistance, overall general awareness and fellowship are some of the ways by which CAMTAN furthers the cause of awarenessand assistance. CAMTAN T-shirts were available for sale and donations are always appreciated as CAMTAN is a non-government funded program. Pastor Hill is available at 931-647-5777 for more information.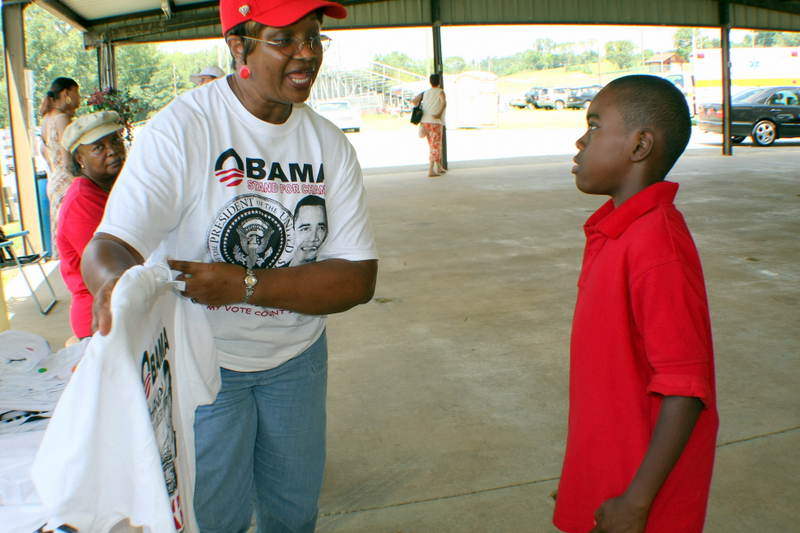 The Clarksville for Obama station had information on the local unit's outreach to promote Senator Barack Obama's presidential campaign. T-shirts and other campaign material were available. Information on hosting a house party and other support efforts was also on hand. For more information or volunteer options, visit their website.
Deliverance Outreach Temple was also on hand. It's "Taking it to the Street" ministry held a free Clothing Give-A-Way at the festival. This effort is part of the church's philosophy of hands-on outreach to the community. Steve and Dee Pearson are the co-chairs of "Taking it to the Street". Pastor Timothy Grant is the minister at Deliverance Outreach Temple, 851 Garrettsburg Road. The church also distributes a Community Information Resource Pamphlet listing businesses of interest to the community. For more information on this or the Clothing Give-A-Way, call 931-553-0060.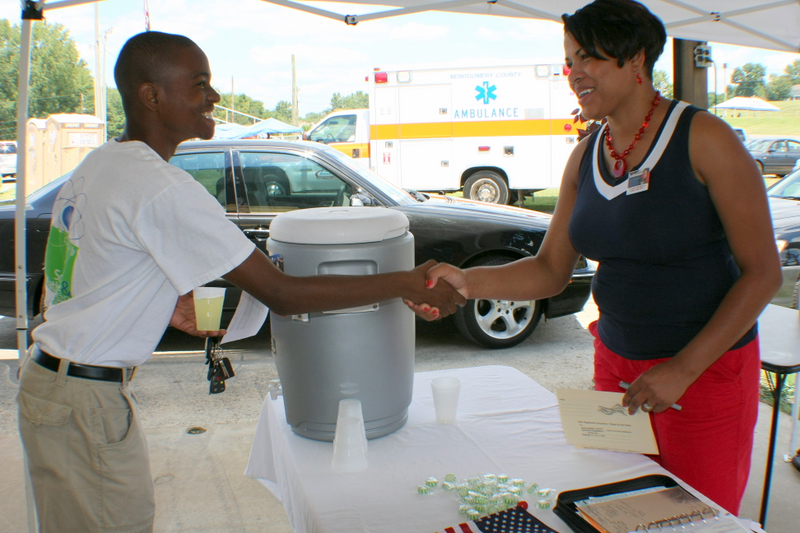 Ms Candy Johnson manned her Ward 5 City Council seat station. The Clarksville native is competing with Dianne Ward and Lewis Baggett for the contested city council seat in the November elections. She had questionaires and copies of her mission statement on hand. She also provided voter registration forms at her station. She believes that personal involvement is crucial to improving city government and insuring that all elements of our community have a voice and are considered in government decisions and activities. The public is invited to join her on August 28, at First Federal Savings Bank, Ft. Campbell Blvd. at 6 PM for her Campaign Kick-Off and discussion on how to put government back into the hands of the citizens.
Attorney Muriel Neal held sway at the Kids History Quiz station. Questions about famous African Americans and contributions made by African Americans were posed to youngsters. Correct answers earned the child a free prize of their choosing. Assisting her was MTSU senior, Terri McMoore, youngest daughter of Wanda and Terry McMoore.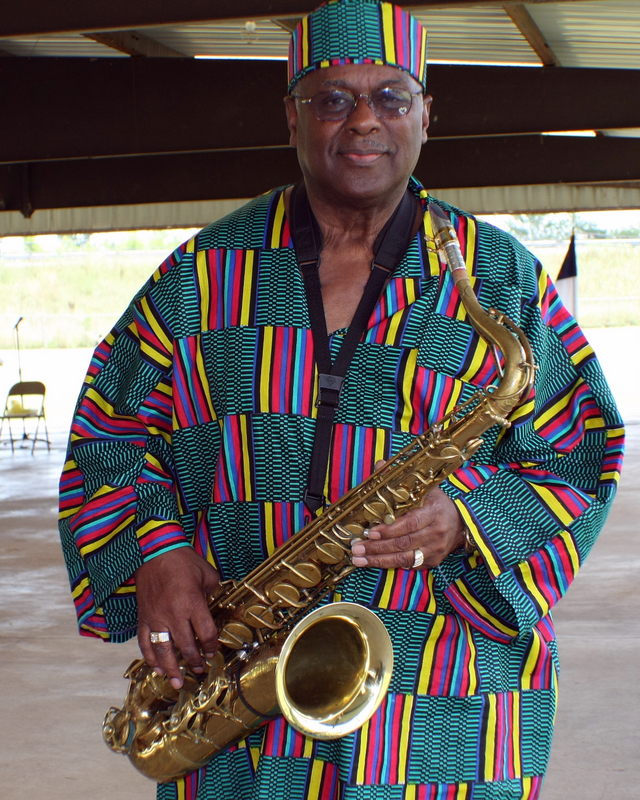 Poetry readings, historical recitations, songs of praise, softball games, Latin American folk dancing, and mini concerts by blues saxaphonist James Witherspoon were all part of th day's activities. Steve Jones and A.D.licious Barbecue, as well as Jerry's Barbecue, served barbecue ribs, pulled pork and chicken sandwiches and dinners along with a variety of soft drinks.
Supporting vendors listed included CAMTAN, Deliverance Outreach Temple, Mt. Olive Baptist Church, Temple of Truth, James Shelley-State Farm, Jeff Jerkins, Birdie Hayes, Attorney Muriel Neal, Candy Johnson, Pastor Eddie Sumier, Yvonne Leighton, Linda Hunter, Mary Gilmer, Steve Jones-A. D. Licious Bar-B-Cue, Lilly Webb, Nannie Cobb, James Ledlow and Florence Grant.