The City of Clarksville will host a grand-reopening of Legion Street and the new 'Strawberry Alley' on August 29th from 6 p.m. to 9 p.m. The street will formally re-open less one of its new attractions: a unique $102,734 fountain. Lest you think the addition of the fountain has been discarded, think again: the custom made fountain will be installed in November.
The $1.2 million price tag in the contract for the Legion Street/Strawberry Alley work included $75,000 for a fountain, $27,000 short of this one-of-a-kind fountain's actual cost. The difference in the fountain cost plus installation expenses will be made up from a $250,000 "contigency line item" in the contract with Roy T. Goodwin. The original designated maximum price allocated for the fountain has fallen by the wayside. «Read the rest of this article»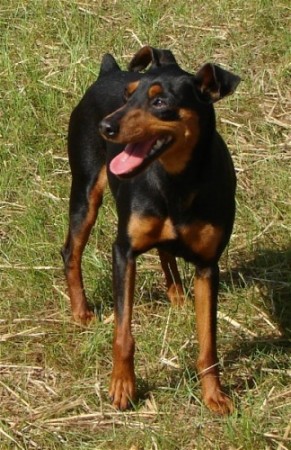 My family adopted a rescued puppy and named her Sophie. I found her on petfinder.com, which has pets from local humane societies and shelters. My dog came from Jack's Place which is about 50 miles North of Clarksville in White Plains, KY.
I haven't had a dog in a long time. She is already part of the family. It only took two minutes for her to know she is lower in the pecking order than our 10-year-old cat Rose, but they're starting to get along.
Someone abandoned or 'dropped' Sophie out in the country, despite her being a pure bred miniature pinscher. Most dogs left this way die from starvation. Bob and Christine operate Jack's Place and are at their maximum capacity with adoptable dogs and cats. If you have room in your home and heart and would like a dog or cat, try petfinder.com before you purchase a pet. Ninety percent of pets taken to animal shelters are euthanized; there are just too many of them.
The kindest thing you can do for all dogs and cats is to have yours spayed or neutered. According to the Clarksville Humane Society, Clarksville kills over 90 animals a week because of over-population.

The Fox invites female athletes that will be 18 years old by April 1, 2009, or older to sign-up and tryout for the Clarksville Fox 2009 Women's Full Contact Football Team and become part of one of the best known and highly respected teams in the nation.
The Fox in two years have become a Championship organization and hope to build on that success with the recruitment of new team members.
Rob "Pops" Brown, owner/general manager for the The Clarksville Fox Women's Semi-Pro Football Team said:
"As you already know, the Fox finished up their season as the IWFL Tier Two Division Champions and the youngest women's full contact football team to play for the national Championship in any of the top leagues in women's football. We are very excited about that accomplishment and want to take the next step in 2009 and WIN the 2009 IWFL National Championship. In order to do this, the Fox is starting now with off-season conditioning and taking sign-ups for the team's tryout for the 2009 season." «Read the rest of this article»
If you missed it, last Saturday the 16th was a perfect day for an outing. There was a slight breeze that seemed to nod at the upcoming Autumn season. I don't know about you, but days like that make me want to get out and see what's going on in my area and the surrounding towns.
So I found myself at Dunbar Cave State park where they were hosting Early Native American Skills Day. Now when I hear the words Early Native American I tend to think of Pow-Wows, Cherokee Indians, Trail of Tears,and bearskins. This event however introduced me to the world of the original settlers the earliest "Americans" the Southeastern Prehistoric Native Americans. That's right, we're talking old. Very old. Way back. 6,000 BC
Some of the demonstrations by the staff of Dunbar Cave that I participated in were , demonstrated to me by Ranger Neblett. Atlatl throwing is where you take your spear, which in my case was over half of my height, place it inside of the Atlatl, which resembles a long pipe of sorts, then send it hurling across a distance toward the 'prey' that you would be having for dinner that night. Unfortunately all I killed was by chance an unlucky cricket passing by in the grass, for my spear did not 'hurl' very far. «Read the rest of this article»