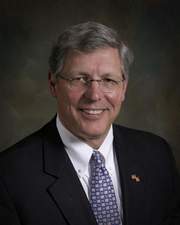 Governor Phil Bredesen endorsed Democratic U.S. Senate candidate Bob Tuke this week in an email message to Tennessee Democrats encouraging them to donate to the Tuke for Tennessee campaign.
"I have endorsed Bob's candidacy for many reasons, but chief among them is Bob's capability to address the critical problems confronting Tennesseans today: bringing down high fuel prices, creating more jobs, jump-starting our slowing economy and better managing our war against terror. He is armed with a profound knowledge of today's most important issues and a willingness to quickly and effectively achieve bipartisan solutions to help Tennesseans. I join a growing list of Bob Tuke endorsers including Former Vice President Al Gore." ~~ Gov. Phil Bredesen
In June this year, Governor Bredesen and Tennessee Democratic Party Chairman Gray Sasser held a Unity breakfast with Democratic National Committee member Inez Crutchfield endorsing Senator Barack Obama as the Democratic nominee for president.
The Teamsters Local Union 667 in Memphis has also endorsed Bob Tuke.  Local 667 joins a growing list of Tuke for Tennessee endorsers, including:
Tennessee AFL-CIO Labor Council – Representing 340 Local Unions and 250,000 workers throughout Tennessee
Tennessee Professional Fire Fighters Association
Teamsters Local Union 519 – Knoxville, TN
Teamsters Local Union 480 – Nashville, TN
Teamsters Local Union 327 – Nashville, TN
Communications Workers of America Local 3808 – Nashville, TN
UA Local Union 614 – Memphis, TN
AFSCME Local 1733 – Memphis, TN
International Brotherhood of Electrical Workers Local 474 – Memphis, TN
Atomic Trades and Labor Council – Oak Ridge, TN