The remnants of Hurricane Ike swept a wide curve west of  Montgomery County before racing northeast and away. Along the way, though, its winds, gusting up to 60 mph in the Clarksville area, whipped a flurry of branches, pine cones and other debris into yards and across roadways. Rainfall from Ike was minimal here as well.
One unlucky homeowner on Powers Street fared less well than most, as mature tree had a huge portion of its limbs torn off by Ike's windpower.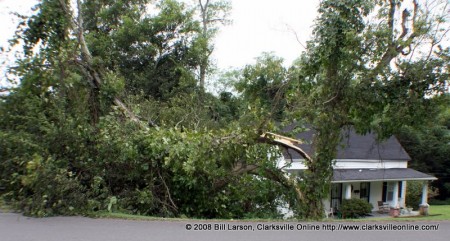 In the New Providence area, CDE workers worked to restore power to the Eva Drive area. Northern Middle Tennessee spent most of Sunday under a high wind warning as Ike, after meandering through the Caribbean and the Gulf ofMexico, before taking out entire sections of the Louisiana and Texas coastline, began is run over dry land. In its aftermath, Clarksville and surrounding communities have enjoy a spate of cooler, breezy weather, refreshing after the heat of summer.