Amidst economic and other problems in America we've forgotten and abandoned Darfur.  Simon Deng, a former slave and native of Southern Sudan, was pleading with listeners to continue to take action to stop the genocide in Darfur during an event held at APSU.  He said, "I'm a voice for the voiceless" and encouraged everyone to "Do your part".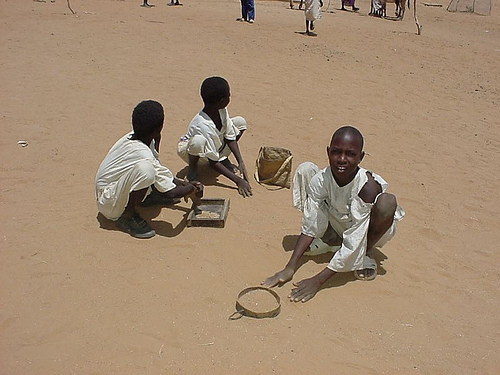 What can we do?  According to Deng, one of the most important things we can do is to send a short note or email to our senators and representatives requesting that they take action to help the people of Darfur. Former Senator Paul Simon of Illinois said after the 1994 Rwandan genocide: If each member of Congress had received just 100 letters urging action, that would have been enough to get our political system to respond.
Deng is "living proof of slavery". In Sudan human beings are still being bought and sold into slavery. He was abducted and enslaved when he was only 9 years old.
According to the Genocide Intervention Network:
At present (Jan. 2009) Darfur is experiencing the most intense fighting seen in the last year. For over 6 years, the most notorious genocide of the twenty-first century has devastated millions of non-combatant civilians in Darfur. Sudan continues to send its troops and Janjaweed proxy militias to systematically destroy the livelihoods of Darfurians by bombing and burning villages, looting economic resources, and murdering, raping, and torturing non-combatant civilians. Rebels in Darfur are also complicit in the recruitment of child soldiers and the commission of other acts of violence against civilians.
Senator Lamar Alexander, email
455 Dirksen Senate Office Building
Washington, DC 20510
Senator Bob Corker, email
455 Dirksen Senate Office Building
Washington, DC 20510
Representative Marsha Blackburn, email
217 Cannon House Office Building,
District of Columbia 20515-4207
President Barack Obama, email
The White House,
District of Columbia 20500
Hillary Clinton, email
U.S. Department of State
2201 C Street NW
Washington, DC 20520
For more information:
http://www.preventgenocide.org/action/alerts/darfur/
http://www.genocideintervention.net/
http://www.uusc.org/content/contact_senators_representatives_darfur