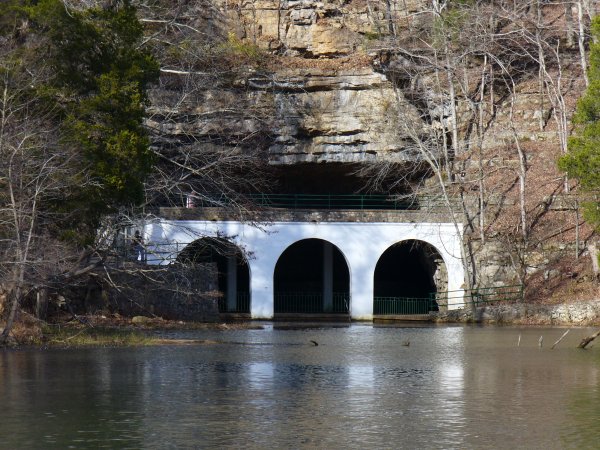 This month's business meeting for the Friends of Dunbar Cave will be held Thursday evening at 6:00pm, at the Dunbar Cave Visitor Center. The meeting will likely consist of going over all the details required to pull off Spring Fling. They have plenty to discuss. The meeting will also likely touch on Cooling at the Cave;  as it is right around the corner. If you are not yet a member of this organization you are welcome to attend the meeting, become a member, and to become more involved!
The Friends of Dunbar Cave are also preparing for their 10th annual trees to trails effort.  Volunteers will be spreading the mulch generated from donated Christmas trees on the trails around the state natural area, between 9am and 12pm on Saturday April 25th, the first Saturday after Earth day.
The group usually has a great turn out, but they never turn down additional volunteers.
Events
Cave Tours – Saturday and Sunday at 1pm and 3pm. Cost is 5$ per person. Each individual must bring their own flashlight. Call for reservations (At least one week in advance, Mon-Fri 8am-4:30pm) 931-648-5526
Spring Fling – all day educational event on Saturday May 9th includes raptors, canoes, snakes, and lots of fun. SOAR will return for another great show. 2009 is our 11th year.
Cooling at the Cave – music and fun at the cool mouth of the cave, held on the last Saturday of July which is usually about the hottest day of the year. 2009 is our 3rd year of Cooling at the Cave.
Amy Wallace Park Interpreter
Wildflowers are blooming now! We are amazed at how many flowers we have in places that once had none. Guess that's what comes from protecting the area for 30+ years.
We had a Bufflehead, Blue-winged Teal, and two Lesser Scaup on the lake at once one day in mid-March. It was nice to see some ducks other than mallards on the lake. The barn swallows returned on April 1, later than they arrived last year by a few days. Our Blue-gray Gnatcatchers (small birds that nest here, they look a bit like tiny mockingbirds) also are back. Frogs are singing – spring is here, don't care what the thermometer says (and it says 37 degrees right now.)
Several visitors got an up close look at a small water snake that was sunning on the paved trail to the lake. It was then relocated off the paved trail so that no one would "help" by harming it.
Unfortunately someone knocked the tops off of dozens of May Apples coming up along the trail.