The Clarksville Police Department is asking for your assistance in identifying and locating the female in the photo below.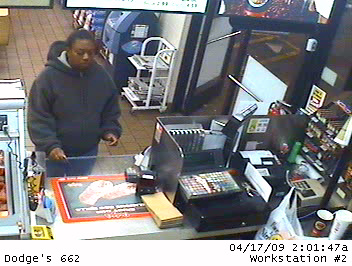 On April 17, 2009 a vehicle accident occurred in which resulted in a person being transported to the hospital. Shortly after the crash, private citizens arrived to render aide prior to law enforcement officers arriving on scene. The victim's wallet was taken from his vehicle.
The victim was notified on April 22, 2009 that his credit and debit cards have been used at several businesses and locations throughout the city. The photo provided is of a female who used the victim's credit card to illegally purchases items. Approximately $350.00 was charged against the victims credit cards before he could close the accounts affected.
Please contact Detective Kevin Shaw, 931-648-0656, ext 1003 or the TIPSLINE 931-645-8477.