Austin Peay State University music professor and coordinator of guitar studies, Dr. Stanley Yates, visited Bucharest, Romania, for two concert performances.
Both performances were held at the National Radio Hall, a major performance venue in the city, and were broadcast on Romanian National Radio.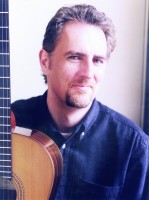 Yates' first concert was a solo recital of music including guitar arrangements of two suites by Johann Sebastian Bach and a long-lost concert work by the 19th century guitar virtuoso Giulio Regondi.
For the second performance, Yates was a soloist with the Romanian National Radio Orchestra in a presentation of an early 19th century concerto for guitar and orchestra by Johann Baotiste Viotti. This performance was sold out.
Yates visited Romania last summer to film concert and interview footage for an eight-part documentary series on the classical guitar for Romanian National Television.
He has been invited back to Romania for a solo recital later this year sponsored by the American Embassy in Bucharest. He will be accompanying Romanian violin virtuoso Alexandru Tomescu in concerts in the U.S. and Europe in the 2010-11 concert season.