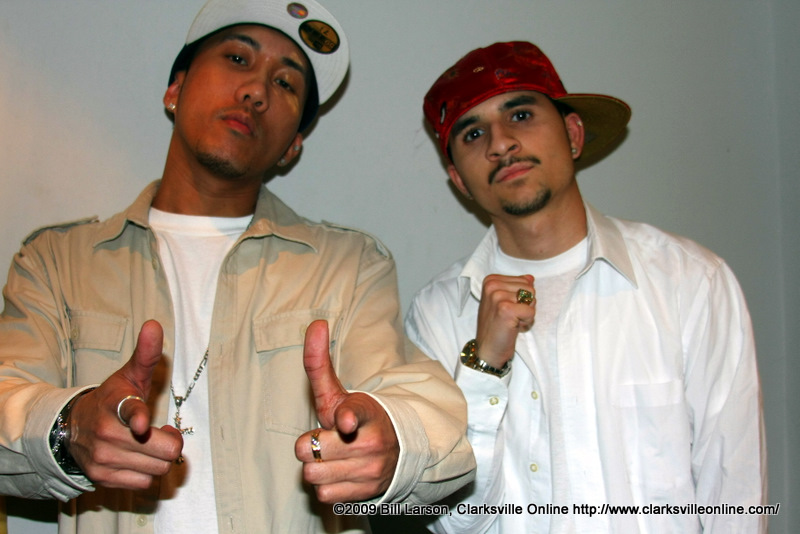 Clarksville Tennessee is home to a vibrant rap and hip hop scene. One of the reasons is Fort Campbell which continues to bring people in from all over the world. Another is Austin Peay State University which brings in many people from the Memphis Tennessee area, the largest hotbed for rap and R&B artists in the state.
But one only has to do an search of YouTube, Facebook or MySpace to see the abundance of talent that the city of Clarksville has to offer. On these same social networks you can find Jose Toro aka Lazarus and Chris Baladad aka Sir Virtue whom together make up a rap group called Street Poets.
Catching up to do an interview with Street Poets was a real chore because this group is doing all the things they need to do to get to the top. Constant marketing, networking, studio development and just hitting the streets, hustling and grinding their way to the top. We finally managed to get them to take some talk time out of there busy schedules, and Clarksville Online author Terry McMoore sat down with the Street Poets for a very personal and hard hitting interview.
What are your names?
Jose Toro & Chris Baladad
What are your stage names?
Lazarus (Jose) & Sir Virtue (Chris)
How old are you?
Jose: 23, born on August 17, 1985

Chris: 27, born on April 26, 1982
Where were you born, or what state or city do you claim?
Jose: I was a military brat living. I have lived around the US and in other countries including Germany. I was born in Lawton, OK. My parents were raised in Puerto Rico, and I have lived in the South for 14 years (TN for 9 years currently and GA for 5 years).

Chris: I was born in the west coast, Monterey, CA to be exact. I have lived all around the US and even Germany. I've been in TN for about 14 years now. I have connected with so many different types of people so you can say that I'm on a worldwide level reaching from coast to coast.
What are your nationalities?
Jose: Puerto Rican
Chris: Filipino with 1/3 Caucasian
What are your educational backgrounds?
Jose: Northwest High School graduate, APSU Bachelor's Degree
Chris: Kenwood High School graduate; few years experience at APSU
Are you registered to vote and do or did you vote?
Yes, we both are registered and have voted for Obama.
Have you done any traveling and if yes to where?
As far as music performing, only Nashville…But this summer we have plans to travel to Memphis, Chattanooga, Atlanta, Orlando, Houston, and St. Louis.
How long have you been in the game?
Jose: Writing since 14, and started recording at the age of 16.

Chris: Began writing poems and songs at 14 and started recording a demo at 16.
How did you both get your starts?
Jose: I started rapping songs when No Limit Records was getting big in Savannah, GA in the 8th grade with a Puerto Rican classmate. Then we started freestyling cover songs. At 14, I began writing poetry and turning them into lyrics on paper. At first I tried to sing them, but it didn't work for me.So I changed them into verses and rapped the lyrics. I can't remember what my first alias was, but it wasn't until 2000 when I moved to TN and got serious with the music and came with the alias "Lazarus." I used the name to define my resurrection of real Hip-Hop music from the dead, as the name and meaning from the Bible inspired me to come with the name. Eventually, in 2006, based on my personal mistakes and bad habits, I changed my alias to Manuel (my middle name) to reform myself as a music artist. However, it only lasted for a short stint, as I reverted back to "Lazarus" in 2007 realizing it's the alias I feel Hip-Hop needs and for me to express myself disguised as the artist I was born to be. Other nicknames I go by are Laz, Laz-O, and P.K.S. (Puerto Rican King of the South).
Chris: I have been listening to music since I was a little kid so the art has always been my fascination. I got Dr. Dre's "The Chronic" album when I was in the 5th grade and what stood out to me was the way they were using their vocals to make a melody to flow with the beat. That's when I really became interested in hip hop and learning my own way to perform the raps. I wrote my very first rap song with a friend when I was in the 6th grade.

It was a really short song about basketball. When I was around 14, I started writing out all types of "freestyles", poems, and songs and eventually began posting them on online message boards using different aliases. I began to think more serious about the music when I started going with my friend Alpha Omega to the Rec Center on Ft. Campbell's base to record a short demo.

This was when I started the transformation into Virtue, the lyricist/artist. I chose the moniker Virtue because it means excellent quality and that's what I try to bring with my music, as being the virtue of music. I added the Sir to the beginning to signify a sign of royalty and respect and to personify my character.
How did Street Poets come together? Was it the original name? If not what was it before? Was it always just you two?
Chris Baladad AKA Sir Virtue and Jose Toro AKA Lazarus first met in the Austin Peay Morgan University Center early February of 2004. Jose was sitting on a sitting couch located by the big windows that used to be a layout of the University Center. Chris eventually went from walking around and settled on a sitting couch that was directly next to Jose. It wasn't too long until Jose interacted with Chris based on music, seeing that Chris pulled out a little black notebook writing lyrics. They started getting to know each other more often and it wasn't too long until Chris invited Jose to join him on a performance that him, gospel singer, Alpha Omega, and former singer and dancer, Jamal Jones AKA Correohype, was scheduled to perform in April of that year. Jose was later incorporated into the performance rehearsal with featured appearances on Virtue's and Correohype's performance sets. Shortly later into the rehearsals, Yatin Patel, now part of Fatalistik Entertainment, joined with the group. DJ Exile was soon joined in to the group to help with the music rotation. Soon, the gentleman contemplated on a simpler name to unify the group instead of individual aliases. The group was decided to be known as Kustom Profile. As performance day came, so did an average Austin Peay audience curious to listen to Kustom Profile.

The performance lasted well under an hour, outside in cold weather. As time progressed, the members of Kustom Profile soon withered. DJ Exile moved, Yatin Patel moved at the end of 2004 to pursue into his family business (although still attached to the indie label Fatalistik Entertainment), and Correohype moved back to his hometown, Houston, TX, based on insufficient funds for college. Virtue, Lazarus, and Alpha Omega were the only ones left in Kustom Profile. However, Alpha Omega decided to concentrate more on his gospel music rather sticking to R&B.

So as Virtue and Lazarus were the only concentrating MCs left, they scrapped the name of Kustom Profile, and soon went with their own duo alias of Street Poets. The two chose the name Street Poets because the music that they delivered was both poetic and urban related. They crafted intricate songs which consisted of unique rhyme schemes and wordplay to club bangers that contained rhymes of boastfulness and street life.

By mid 2005, they recorded an unreleased mixtape in Sir Virtue's home using a microphone, computer, and Cakewalk software. The mix tape was tentatively titled "Street Poets: The Mixtape Vol. I". Although never released, the mixtape was a good learning experience for the two artists. They kept writing music, creating beats, and kept on perfecting the craft of recording. However, they wanted better recording quality. In late 2007, they hooked up with Toby Entertainment's recording engineer, I.R. Skillz, and began production of an EP. However, the music was getting too good, the recording became a fascination, and they had too much lyrics and supplied beats to just record an EP. So, as recording progressed, so did the material of a potential first album for the two MCs. For a period of nine months, twelve original tracks were completed by the Street Poets.

On May of 2008, the tracks were completely mixed. Photos were taken; an album cover was created from conceptual ideas from Lazarus and Virtue. While Lazarus added the concept design to the cover, Street Poets delivered the final draft of the artwork to Joseph "Young Holla" Long for final modifications and publishing. In June, the album was sent to be mastered. On July 24th, the first copy was sold. Soon enough, more copies were being distributed for only five dollars per album. On occasion, the albums were sold for donations to prove that Street Poets are in it for the passion.

However, the Street Poets have much more in store for Clarksville, TN, the South, and all other regions. The first album was just the beginning of what Street Poets has to offer.
Do you belong to a click, crew, posse, etc?
It's just Street Poets, as in the future we plan to grow locally as a movement for Hip-Hop.
How would you describe your music?
Hip Hop in it's essence. A collection of our thoughts and feelings put into words to provide the listener with an enjoyable and hopefully influential experience. We tend to be poetic with our lyrics while at the same time incorporating other elements of hip hop into the mix, such as adding witty punch lines and rhyming with multi-syllables. We do all types of songs: street anthems, storytelling tracks, club bangers, lyrical showcases, and those special songs for the ladies. We like to think of new and different concepts when it comes to lyrical content and the overall sound of the music.
Which music artists influenced you and your music?
Jose: 2Pac, Nas, Jay-Z (Hard Knock Life was the first hip-hop CD I received), Biggie, Big Pun, Eminem, Bone Thugs-N-Harmony, The Fugees as far as relating to Hip-Hop artists.

Chris: 2Pac, Nas, Jay-Z, Eminem, Outkast, Wu-Tang, Canibus, Biggie, Fabolous, Lupe Fiasco, Kanye West as far as strictly hip hop artists. Music is my passion so I like to listen to all kinds of music so I pull influence from all kinds of artists/groups from rock to R &B.
What albums have you released?
Street Poets: The Mixtape Vol. I in 2005 (Never been released)
The Movement (First Original Album) in July 24, 2008
Appeared on Coast 2 Coast Volume 18 hosted by DJ Khaled with the track "1 Luv"
Appeared on DJ Antomattei of Tokyo's mixtape titled "East Coast Bad Boyz" for Coast 2 Coast with the track "Classic"
What are some of your new and upcoming releases?
I Am Street Poetry (The Mixtape) in May 23, 2009
Sir Virtue: The Virtuoso in the Mid-Fall of 2009
Lazarus: Son of Made-Line: December 2009
Street Poets: This Is Music – 1st quarter of 2010
Where are some of the places that you have performed?
Clarksville: Austin Peay (multiple times)
Nashville: Soul Food Poetry Café, El Diamante's, Café Coco's on 4/30/09
What was your biggest performance to date?
AP Apollo in Clement Auditorium of Austin Peay on October of 2008
What do you hope people get from listening to your music?
We hope that people can enjoy the form of art that we express ourselves through and that it influences them to work towards achieving their goals and aspirations. We want to be remembered for our lyrical abilities and for being passionate about bringing good music to the ears of the people. We hope that people see us as being artistic and being ourselves and making music that people can have a good time and party to or just think and appreciate the talent of creativity.
What does the future hold for street poets?
In the future, the Street Poets name and music is going to be very popular in the Underground scene and to be a future SEA nominee, along with the music spreading from California to New York…because our style is so versatile that a West coast or East coast music fan will enjoy the music we bring to the table. We hope to have our own recording labels and studio where we can record freely and have other talented artists join our roster.
Where do you see yourselves ten years from now?
We hope to see ourselves with a collection of great music that succeeded being distributed to people who likes music and has a Hip-Hop head on them. We also like to see ourselves CEO of Street Poets ENT (Virtue) and Made-Line ENT (Lazarus), branching from Street Poets ENT….(Take out the hyphen and you get Madeline (which is my mother's first name, that's how the label name derived).

We look to do what Sean Combs, Russell Simmons, Shawn Carter, and Brad Jordan did to the game, to be dominant representatives of Hip-Hop music.
What do you like to do when you are not making music?
Jose: Film production such as editing (example is Final Cut or Avid), directing, and scriptwriting, Multimedia Design such as Adobe CS3 (example is Photoshop), Sports especially Basketball & Football, thinking of my next moves with the music, and networking.

Chris: Listen to music, spend time with friends and family, go out to the club/parties, watch movies and sports, work out, play games (pool, bowling, basketball), play video games, everything else that involves the progression of an artist: networking with other people, maintaining a webpage, designing graphics, video directing, etc.
Please give me your MySpace address and Facebook or wherever your music can be found.
How can we find or contact street poets?
You can email us at . On Facebook search "Sir Virtue" and "Jose Toro" or Contact them via their MySpace websites.