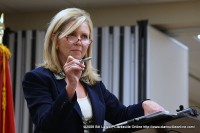 Congresswoman Marsha Blackburn held a town hall meeting yesterday afternoon with her constituents. During the roughly hour long meeting Blackburn repeatedly expressed her opposition to the Democrats' health-care reform principles. The meeting was quiet and orderly. Blackburn punctuated her responses using frequent Republican Party talking points, like not allowing bureaucrats to stand between patients and their doctors and hospitals. In all fairness, it must be said that is exactly what Health Insurance companies do on a daily basis. She also expressed her support for leaving the for-profit insurance companies in overall control of the health care system.
Blackburn took questions from the audience on topics ranging from the obvious questions on healthcare reform to lobbying, the growing number of cabinet Czar positions, immigration reform, tort reform, and emergency room misuse. Many members of the audience raised their hands to ask questions, however just a select few were able to ask them. Of those, the majority of those who were allowed to ask questions supported Blackburn positions on healthcare reform, however that could easily be a result of how those questioners were selected.
Blackburn presented some unbelievable numbers, including a claim that 4,000,000 jobs would be lost if H.R. 3200 was made into law. The high cost of healthcare and other benefits are frequently cited as the primary concerns holding businesses back from hiring more employees. She also did not address the ever increasing amount of money made by the C.E.O's and top executives of the health insurance companies, which is paid for by increasing their customers premiums each year.  (The numbers and C.E.O.'s below are from 2008)
Aetna – Ron Williams – $24,300,112
Amerigroup – James Carlson – $5,292,546
Centene – Michael Neidorff – $8,774,483
CIGNA – H. Edward Hanway – $12,236,740
Coventry Health Care – Dale Wolf – $9,047,469
Health Net – Jay Gellert – $4,425,355
Humana – Michael McCallister – $4,764,309
UnitedHealth Group – Stephen Hemsley – $3,241,042
Universal American – Richard Barasch – $3,503,702
WellPoint – Angela Braly – $9,844,212
These 9 CEO's made the as much as 2,521 families living in Clarksville, TN ($33,885 per family). Their salaries ate up the combined yearly premiums of 29,547 Tennesseans (Average per individual $2891.25).
In the end, those who went into yesterday's town hall meeting opposing healthcare reform still, oppose it. Those who went in supporting it, still support it. There is one point that everyone can agree on, doing nothing is not an option!