The author whose autobiography was the basis for the Oscar-nominated movie, "Hotel Rwanda," will speak at Austin Peay State University in a keynote address open to the public.
Paul Rusesabagina (roo-se-sa-ba-ga-na), who wrote "An Ordinary Man," will present a talk at 7 p.m., Thursday, Oct. 1 in the Dunn Center gymnasium. The event is free and open to the public. A book signing will follow his talk.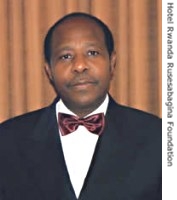 In "An Ordinary Man," Rusesabagina tells the story of his childhood, retraces his accidental path to heroism, revisits the 100 days in which he was the only thing standing between his "guests" and a hideous death and recounts his subsequent life as a refugee and activist. His story inspired the production of the film, "Hotel Rwanda," a riveting account of a man finding strength within him to save others in the midst of his country's darkest moment.
As Rwanda was thrown into chaos during the 1994 genocide, Rusesabagina, a hotel manager, turned the luxurious Hotel Milles Collines into a refuge for more than 1,200 Tutsi and moderate Hutu refugees, while fending off their would-be killers with a combination of diplomacy and deception.
While militants threatened and surrounded the well-groomed grounds of the hotel, he spent hours on the phone, pleading with influential leaders, with his international connections his only defense against attack. He bartered luxury items such as money, gold, cigars and aged bottles of wine he hoarded in his hotel for the lives of strangers seeking refuge in the chaos. Miraculously, no one who was housed at his hotel died.
Rusesabagina's book and Oct. 1 appearance are part of a new reading initiative at APSU called The Peay Read, designed to provide a unifying experience and contribute to the academic experiences for freshmen students. However, the reading program also offers opportunities for sophomore, junior and senior students.
A committee reviewed several books and chose "An Ordinary Man" as The Peay Read's first common reading book. Committee members also have worked with other academic departments to plan activities culminating in Rusesabagina's keynote address.
Examples of The Peay Read student activities and memorabilia include the following:
T-shirts with "I met an ordinary man" printed on them and given to freshmen students enrolled in the APSU 1000 First-Year Experience program, which is including the book in its classroom discussions.
Bookmarks with book quotations, which will be used in student discussion groups focused on those quotations.
Faculty-student class discussions, including gaining skills about how to fight injustice.
Student book reviews, with authors of the "best 10" essays invited to a dinner with Rusesabagina.
An on-campus speaker presentation about genocide.
Faculty presentations relevant to the book.
A showing of "Hotel Rwanda."
More details about this year's book reading selection or The Peay Read, visit http://www.apsu.edu/Read/.