Washington – U.S. Rep. John Tanner highlighted recent developments that could help many Tennessee families gain access to additional local television options.
"We feel we are making progress toward ensuring 8th District families have access to news, information and recreational programming that originates from our state and best serves our local communities," Congressman Tanner said.
The House Energy and Commerce Committee recently passed the Satellite Home Viewer Reauthorization Act with amendments that help further two of Congressman Tanner's priorities to impact Tennesseans' channel lineup options. The bill must still be scheduled for consideration by the full House, and similar legislation must also be deliberated in the Senate.
Congressman Tanner has also discussed with the Federal Communications Commission the difficulties some Tennessee families have experienced in receiving digital TV signals.
DMA Reform
Congressman Tanner and others have highlighted how some local areas – including Lake, Obion and Weakley counties in Northwest Tennessee – have limited access to in-state news, weather and athletic programming because they are geographically included in designated market areas (DMAs) based in other states. This drastically reduces the number of information sources available about issues affecting the state.
The bill passed by the Energy and Commerce Committee requires the FCC to issue a report on how many households receive local broadcasts originating from out-of-state and whether the DMA structure can be adjusted to provide consumers with more in-state programming.
Tanner said this is a major step, insisting that the FCC re-examine limitations in the current DMA structure.
Local Channel Availability on Satellite
Currently, many families live in areas not serviced by cable companies but with a satellite TV provider that does not provide local programming. These families also are often denied local news, information and athletic programming about their communities. A provision in the legislation passed by the Energy and Commerce Committee would accelerate the process for requiring satellite companies to provide this local television coverage to these customers.
This is of particular interest to many rural families in West Tennessee, Tanner said.
Closing Gaps in Digital TV Coverage
Some neighborhoods, including many in Middle Tennessee, are still unable to receive digital television signals, even after the mandatory transition from analog to digital broadcast signals in June. Congressman Tanner wrote to the FCC to raise the concerns of affected Tennesseans.
"Constituents… have expressed considerable displeasure over their inability to receive signals despite purchasing converters [and] antennas, and performing all the re-scanning steps recommended by the FCC," Tanner wrote in his letter to the FCC.
The FCC assured Tanner it will continue to work on closing DTV blind spots.
"The Commission is assisting any station requesting action to mitigate or resolve reception issues that surfaced after the June 12 transition," the FCC wrote in a response to Tanner.
Congressman Tanner said all of these issues will continue to be a priority for his office.
"We will continue working toward expanding the available programming options that help Tennesseans stay in touch with their local communities and our state," Tanner said.
About John Tanner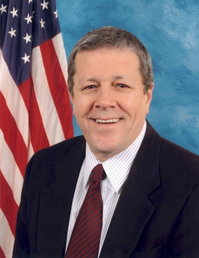 Tanner represents the 8th Congressional District in West and Middle Tennessee. Co-founder of the fiscally conservative Blue Dog Democrats, Tanner serves on the Ways and Means Committee, where he chairs the Social Security Subcommittee, and on the Foreign Affairs Committee. A veteran of the U.S. Navy and the Tennessee Army National Guard, Tanner chairs the U.S. delegation to the NATO Parliamentary Assembly and is serving a two-year term as NATO PA President.