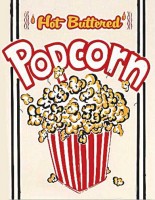 Ask me what my favorite snack is and I won't hesitate a second to tell you that it's popcorn. The aroma of popcorn can drive me to indulge any time day or night. I recently realized that I had no idea where popcorn originated or what makes it pop. Here's what I learned:
According to www.popcorn.org, popcorn was eaten by Native Americans before the time of Jesus. Popcorn kernels more than 1,000 years old were found in tombs on the east coast of Peru; they still popped! Popcorn is believed to have originated in Mexico, but was grown in Sumatra, China and India before Columbus came to the New World.
Aztec girls wore garlands of popcorn in their hair during a popcorn dance during the early sixteenth century. Cortez learned about popcorn when he first came into contact with the Aztecs in 1519. Aztecs used popcorn for necklaces, ceremonial headdresses and to decorate statues of their gods.
By the time Europeans arrived in American, Native Americans knew of about 700 types of popcorn. Native Americans, it is believed, took popcorn to the first Thanksgiving meal as a gesture of good will.
Charles Cretors, founder of C. Cretors and Company in Chicago, introduced the world's first mobile popcorn machine at the World's Columbian Exposition in Chicago in 1893. It weighed about 400 to 500 pounds and could be moved on wheels by a pony or small boy, according to Scientific American.
Popcorn was sold by street vendors in the United States from the 1890s until the Depression; it was made using steam- or gas-powered poppers at expositions, fairs or in parks. During the Depression the five- or ten-cent bag of popcorn was one of the few luxuries most people could afford.
Three times as much popcorn was eaten in the United States during World War II, because most of the sugar was sent overseas to the troops so candy was rare. While sweets were not as available, people turned to popcorn for snacks.
When television became more popular than going to the movies during the 1950s, popcorn suffered a temporary slump in popularity but when Americans began making popcorn at home, it once again became a snack of choice.
After World War II, Percy Spencer of Raytheon Manufacturing Company used popcorn in many of his experiments to create the microwave oven. Microwave popcorn was created in the early 1980s.
Americans eat about 54 pounds of popcorn for every man, woman and child in the United States each year; that's about 18 billion quarts per year. Children and adults love popcorn for its taste, adults realize it has good nutritional value as well. One cup of air-popped popcorn contains 31 calories, 1 gram of protein, 6 grams of carbohydrate, 1 gram of fiber and just a trace of fat.
Some health officials warn that children under four can choke on popcorn so infants and small children should not eat popcorn.
Popcorn can come in many colors—white, yellow, blue, red, black and others. It always pops white.
It is planted mainly in Iowa, Illinois, Indiana, Kansas, Kentucky, Michigan, Missouri, Nebraska and Ohio. Seeds are planted about 1.5 inches deep and approximately six inches apart which allows about 28,000 seeds per acre. Popcorn germinates in about seven days and appears above the soil in about 10 days. Requiring about 18 to 24 inches of rain during a growing season, popcorn stalks grow about eight feet tall.
Ears of popcorn begin growing and reach maturity when the plant is brown and dry. Moisture within the kernels of corn is what allows the popcorn to pop.
Popcorn usually pops when the internal temperature of the kernel is 400 to 460 degrees Fahrenheit. The moisture inside the popcorn becomes steam that builds up pressure inside the kernel. Starch inside the kernel becomes soft like gelatin and the moisture vaporizes until the pressure reaches 135 pounds per square inch. The hull ruptures and the gelatinized starch inside puffs out. The kernel literally turns inside out.
No matter how you pop it, the smell of popcorn is almost guaranteed to make you hungry. Movie theater popcorn is still king for most people and it's still one of the major profitable parts of owning a movie theater.
The next time you are hungry for popcorn, just remember that you are indulging in a snack that people have enjoyed for thousands of years—and have some for me too!