Women's History Month at the Customs House Museum is a special treat for the eyes. Opened on the second of March, Modern Girls is a show of contemporary works by Tennessee's foremost female artists.
The exhibit includes known painters April Street, Edie Maney, and Julia Martin, woodturner Brenda Stein, installation artists Adrienne Outlaw and Sher Fick, award winning watercolorist Anne Bagby, multi-media artist Denise Stewart Sanabria, sculptor Irene Ritter, and photographer Caroline Allison. Curator, Terri Jordan, says of the exhibit, "I wanted to focus this Women's History Month on some of the talented women currently making their way in the art world, that have a connection to Tennessee."
The two-story Crouch Gallery of the Customs House Museum is the perfect setting for works like Street's 90-inch colorful canvases. Street, who originates from the Appalachian Mountains, creates vibrant abstractions reminiscent at once of nature and sci-fi, using layer upon layer of paint. Bagby also likes to layer color and texture in her art. Having been featured in several publications, this award winning artist describes her work as "a combination of printmaking and painting, playing with the boundaries between design and texture." Installation artist Adrienne Outlaw states "I am concerned with the often contentious debate about science, culture, and religion and how a seemingly willful lack of understanding hinders our development as better human beings." Outlaw's work can be found in collections throughout the world, including the Tennessee State Museum and the U.S, Embassy in Nigeria.
Along with the artwork, the museum will feature events throughout the run Modern Girls. Planned activities include a cocktail reception, a lunchtime film, and family craft projects. The exhibit will run through April 18th, 2010.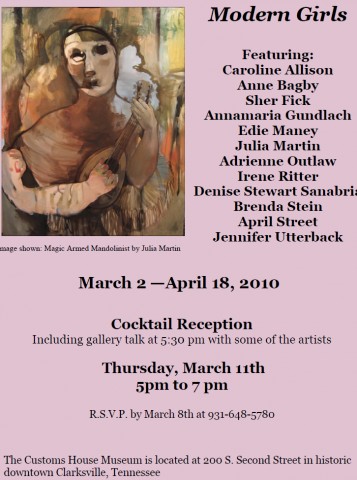 About the Customs House Museum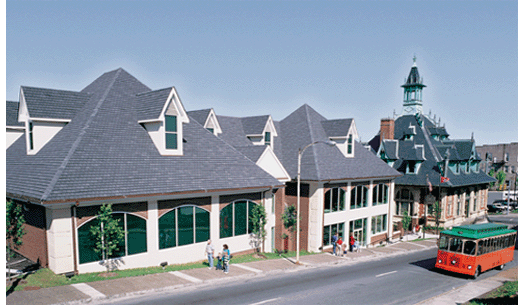 From its inception, the Museum has been committed to serving this community. This commitment is reflected through services such as scheduled free admission days throughout the year; free tours to all Clarksville-Montgomery County public schools; and monthly family-oriented special events.
The Customs House Museum is located at the corner of Second and Commerce Streets. Regular museum hours are 10 am to 5 pm Tuesday through Saturday, and 1 to 5 pm on Sundays. Adult admission is $5, Sr. Citizens $4, College ID $2, Ages 6 to 18 $1, and under six is free. For more information on above events contact Terri Jordan, Curator of Exhibits, at 931-648-5780 or terri@customshousemuseum.org.