Total Raised Tops $1.1 Million In Only Four Months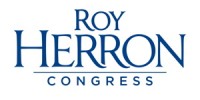 Dresden – Former minister, small town attorney and businessman Roy Herron will report more than $1 million cash on hand in his race for Congress.  Herron has now put together over $1.1 million for his campaign in only four months, raising about $490,000 in the last three months alone.
"Roy's top priority in Tennessee is growing and saving jobs, and his priority for Washington is cutting spending.  People believe in Roy, a person who drives a truck with 380,000 miles on it, because they know he will be a good steward of their money," said Herron Senior Adviser Carol Andrews.
Herron has over 1,500 contributors, including citizens from all 19 counties in the district. Contributors include Independents, Democrats and Republicans.
"I am grateful for this strong support from people who believe that we need fiscally conservative leadership who will work to save and create jobs," Herron said.
Editor's note: This is a news release from a political campaign, and our publication does not constitute an endorsement or political advertisement for the campaign. Any candidate for public office is welcome to submit campaign releases to . These are published as our schedule allows.
Sections
Politics
Topics
Carol Andrews, Congress, Election 2010, Roy Herron