Save the Date!  This Saturday, May 1st, is the Annual Spring Fling at Dunbar Cave State Park. Outdoor activities for the entire family start at 7:00 am with a Bird Hike and ends with canoeing on Swan Lake in the afternoon.
Schedule
7:00 am – 8:30 am, Early Morning Bird Hike;  Bring your binoculars and hit the trails with members of the Warioto Audubon Chapter and learn to identify area birds.
8:45 am – 10:15 am Wildflower/Plant Walk;  The park's naturalist, Amy Wallace, will lead a hike and educate participants on different wildflowers and plants in the park.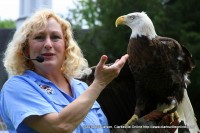 10:00 am – 10:50 am Raptors with SOAR;  We are delighted to announce that Save Our American Raptors, SOAR, will give an exciting educational program showing various native birds of prey.    SOAR will tell us about each bird and its personal history, describe its species and how it fits into the natural world.  The Friends of Dunbar Cave support group will be offering to take pictures of you and your family with the birds for a small donation.  Show up early for this crowd pleaser!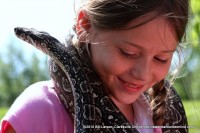 11:00 am – 11:45 am, Cold Blooded Critters;  Nathan Parker, a naturalist at Austin Peay State University, will be sharing his knowledge about local fish, salamanders, frogs, and snakes.
11:45 am – 12:30 pm, Urban Wildlife;  Bettina Bowers-Schwan with the Walden's Puddle Wildlife Rehabilitation Educational Center, will be discussing some animals you may find in your backyard…and she will be bringing some with her.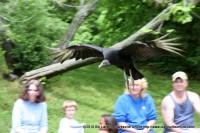 12:40 pm – 1:30 pm Raptors with SOAR Second Show
1:45 pm – 2:35 pm Snakes and Reptiles;  Local reptile experts, Sherry and Donny Howell, will be showing us their reptiliac friends.  Learn why these gentle creatures are good for our ecology.
2:45 pm – 3:45 pm Trail Hike with Suva Bastin;  Suva Bastin is a member of Clarksville's  Tennessee Trails Association, will lead a hike and provide valuable pointers for day hiking in our region.
2:45 pm – 3:45 pm Canoeing on Swan Lake;  Take advantage of the only time during the year your family can canoe Swan Lake.  Sign up early and bring a donation.  Canoes, oars, and life jackets will be provided.
In addition to these events, the following exhibits and demonstration when be happening all day long:
Backpacking with Tennessee Trail Association – Local members will demonstrate the needed equipment for backpacking, day hiking, and camping.
Bluebirds in your Backyard – Duane Rice, local Audubon Society leader and bluebird expert will talk about how to host the Eastern Bluebirds around your home.
Renewable Energy – Members from the "Students Organization to Advance Renewable Energy from Austin Peay State University will discuss and demonstrate ways to conserve energy and employ renewable sources of energy.?
Bats and White Nose Syndrome – Researchers from Austin Peay State University will discuss issues with bats, caves, and the White Nose Syndrome.
Light refreshments will be for sale, including hotdogs, so plan to stay the whole day, rain or shine.  See you there!
We would like to recognize the events sponsors Friends of Dunbar Cave, Clarksville Online & Discover Clarksville,  Warioto Audubon Chapter, Tennessee Trails Association, and the Tennessee Wildlife Resources Agency.
2009 Spring Fling Photo Gallery
Websites