Tide Load of Hope has come and gone but the assistance they have given our community was priceless. An estimated 400 loads of hope were washed, dried, and folded over the 4 days they were in Clarksville, TN last week.
Hosted by Dollar General, the Tide Loads of Hope mobile laundry program provided free laundry services to relief workers and residents of Clarksville, Tennessee who were need of resources and support following the damage caused by the flooding in early May.
An entire section of the Hilldale Super Laundromat was set aside for the exclusive use of the Loads of Hope workers during the time they were in Clarksville, a total of 20 Washers and Dryers.
Earlean McCain one of the residents helped by this program said "They've done a wonderful job washing clothes for me over the course of two days, that's wonderful." Queen Stowe had similar feelings about the Tide Loads of Hope program, "It's a wonderful thing what they did here in this community, it's beautiful really" she said.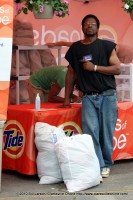 Terrence Jordan from the Riverside Drive area was directly affected by the flood, and was the most eloquent when speaking about how the personal assistance profoundly affected his life for the better. "They have helped me out a whole lot. I stay on Riverside, and you know the water got up pretty high down there, and it got all my stuff wet. The Tide Loads of Hope people coming to Clarksville really helped me out a whole lot."
We spoke to Katie Keys the team manger for the Loads of Hope workers  while they were in Clarksville. "We came down to Clarksville and kinda took over a laundromat. We take  the clothes from the person, bag them, tag  them, put them through our washers and dryers, fold them, and then wrap them up  and put a little bow on them.  They then come and pick them up a few hours later. We do up to two loads per person per day."
This simple task of doing the laundry for flood victims allowed them to concentrate on the cleanup knowing that when they came back that clean and dry clothing would be there waiting on them.
About Tide®
For over 60 years, Tide® has been caring for the clothes of American families and helping to provide the everyday miracle of clean clothing. To meet consumers' diverse laundry needs, Tide offers its cleaning in a variety of products including Tide Total Care, Tide with Febreze Freshness, Tide Coldwater, Tide with a Touch of Downy, Tide with Bleach Alternative, Tide Stain Release, Tide High Efficiency and 2X Ultra Tide Liquid. For consumers' on-the-go stain removal needs, Tide to Go helps remove fresh food and drink stains on the spot. Visit www.tide.com for helpful product information, practical tips on laundry care, special offers and promotions and more.
About Procter & Gamble
Four billion times a day, P&G brands touch the lives of people around the world. The company has one of the strongest portfolios of trusted, quality, leadership brands, including Pampers®, Tide®, Ariel®, Always®, Whisper®, Pantene®, Mach3®, Bounty®, Dawn®, Gain®, Pringles®, Charmin®, Downy®, Lenor®, Iams®, Crest®, Oral-B®, Duracell®, Olay®, Head & Shoulders®, Wella®, Gillette®, Braun® and Fusion®. The P&G community includes approximately 135,000 employees working in about 80 countries worldwide. Please visit http://www.pg.com for the latest news and in-depth information about P&G and its brands.