National Fair Housing Alliance Calls on Federal Government to Improve Enforcement Efforts, Broaden Law to Protect Public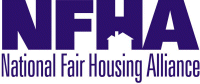 WASHINGTON, DC  — Today, the National Fair Housing Alliance (NFHA) reported that housing discrimination remained at a near historic level in 2009. "A Step in the Right Direction," NFHA's 2010 Fair Housing Trends Report, applauds the Department of Housing and Urban Development (HUD) and the Department of Justice (DOJ) for their recommitment to addressing violations of the federal Fair Housing Act and for directly confronting the discriminatory practices of municipalities that receive federal funds. Yet annual data on fair housing complaints show a continued trend: in 2009 again, 93 private non-profit fair housing organizations, operating on shoestring budgets, processed nearly twice as many complaints as all government agencies tasked with enforcing the federal Fair Housing Act.
"For the second year in a row, the American public reported over 30,000 incidents of housing discrimination," said NFHA President and CEO Shanna L. Smith. "Although this is over a 10% increase in the number of annual reported violations in recent years, it is barely a drop in the bucket compared to the millions of incidents of housing discrimination that we know occur each year. Now, more than ever, as we brace ourselves for impending foreclosures and work to rebuild our communities, we must be vigilant in our fight against fair housing violations."
According to the report, the federal government has taken positive steps to address unfairness in the housing market. Starting with a landmark settlement requiring that Westchester County, NY construct affordable housing in its most segregated neighborhoods, HUD began to exercise its long-held but barely-utilized authority to withhold funds from municipalities that discriminate against people protected by the federal Fair Housing Act. Meanwhile, DOJ filed its highest number of Fair Housing Act lawsuits since 2002 and established a dedicated fair lending unit to investigate lending discrimination.
However, in spite of these advances, long-recognized deficiencies in fair housing enforcement remain unaddressed. A backlog of fair housing complaints continues to exist, despite the fact that private non-profit fair housing organizations – the primary entities enforcing the law on the ground – struggle to stay afloat due to inadequate federal funding. Private organizations investigated 19,924 complaints while federal, state, and local agencies combined processed 10,289.
"Ultimately a stated commitment to fair housing principles only gets us so far," said Smith. "Today, countless people are illegally denied homes or given unacceptable terms or conditions in housing. In order for the goals of the Fair Housing Act to be met, we must see a serious commitment from Congress and the Administration to enforce the Act in a systemic way rather than allowing individual case files to gather dust. Existing laws must be enforced, and they must be strengthened to include sexual orientation, gender identity and source of income."
Under federal Fair Housing Act it is illegal to discriminate on the basis of race, color, religion, national origin, gender, disability, or familial status in rental housing, real estate sales, lending, insurance, and any financial or other services related to housing.
To read NFHA's 2010 Trends Report, go to www.nationalfairhousing.org.
About the National Fair Housing Alliance
Founded in 1988, the National Fair Housing Alliance is a consortium of more than 220 private, non-profit fair housing organizations, state and local civil rights agencies, and individuals from throughout the United States. Headquartered in Washington, D.C., the National Fair Housing Alliance, through comprehensive education, advocacy and enforcement programs, provides equal access to apartments, houses, mortgage loans and insurance policies for all residents of the nation.