Topic: Department of Housing and Urban Development
Clarksville, TN – Clarksville Mayor Kim McMillan will join the City of Clarksville Office of Housing and Community Development to host a Homeless Solutions Forum on Tuesday, May 20th, 2014 from 9:00am–3:00pm.
The forum will be held at Freedom Point in Liberty Park. «Read the rest of this article»
Report finds most complaints allege disability discrimination
Washington, D.C. – The Department of Housing and Urban Development today released the Obama Administration's first annual report on the state of fair housing in America. HUD's Fiscal Year 2009 annual State of Fair Housing Report highlights the agency's progress in enforcing the Fair Housing Act, identifies challenges that remain, and demonstrates its commitment to acting now to end housing discrimination.
The report, which covers the last full fiscal year of HUD's complaint investigations and fair housing activities, was released during HUD's National Fair Housing Policy Conference in New Orleans. The report shows that discrimination based on a person's disability status continues to account for the largest-single category of complaints. Of the 10,242 complaints filed with HUD and its fair housing partners during fiscal year 2009, 44 percent alleged disability discrimination, while 31 percent alleged discrimination based on race, and 20 percent based on family status. The number and type of complaints received are consistent with the previous two years. «Read the rest of this article»
National Fair Housing Alliance Calls on Federal Government to Improve Enforcement Efforts, Broaden Law to Protect Public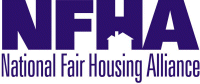 WASHINGTON, DC  — Today, the National Fair Housing Alliance (NFHA) reported that housing discrimination remained at a near historic level in 2009. "A Step in the Right Direction," NFHA's 2010 Fair Housing Trends Report, applauds the Department of Housing and Urban Development (HUD) and the Department of Justice (DOJ) for their recommitment to addressing violations of the federal Fair Housing Act and for directly confronting the discriminatory practices of municipalities that receive federal funds. Yet annual data on fair housing complaints show a continued trend: in 2009 again, 93 private non-profit fair housing organizations, operating on shoestring budgets, processed nearly twice as many complaints as all government agencies tasked with enforcing the federal Fair Housing Act.
"For the second year in a row, the American public reported over 30,000 incidents of housing discrimination," said NFHA President and CEO Shanna L. Smith. "Although this is over a 10% increase in the number of annual reported violations in recent years, it is barely a drop in the bucket compared to the millions of incidents of housing discrimination that we know occur each year. Now, more than ever, as we brace ourselves for impending foreclosures and work to rebuild our communities, we must be vigilant in our fight against fair housing violations." «Read the rest of this article»
Obama Administration Stresses Early Childhood Education in 2009 HOPE VI Program
WASHINGTON – U.S. Department of Housing and Urban Development Secretary Shaun Donovan announced the availability of $113 million in HOPE VI funding today in a keynote address on the future of urban revitalization at the National Press Club during the Brookings Institution's event, "From Despair to Hope: Two HUD Secretaries on Urban Revitalization and Opportunity." Donovan joined former HUD Secretary Henry Cisneros in a comprehensive discussion about the HOPE VI revitalization program and the Obama Administration's proposed Choice Neighborhoods Initiative, which seeks to build on the lessons from HOPE VI and expand urban revitalization beyond public housing. The full text of Donovan's speech is available here.
"The HOPE VI Program has improved the conditions of low-income communities across this nation," said Donovan. "However, HOPE VI was developed in response to the concentrated poverty that resulted not in spite of government housing policy in the twentieth century – but often because of it. Now is the time for us to take the lessons learned from HOPE VI, build on the accomplishments, and broaden the scope of the program for broader impact. Today's funding announcement is the first step toward this new comprehensive approach, because for the first time, we are encouraging housing authorities to incorporate early childhood education components into the HOPE VI planning process." «Read the rest of this article»
WASHINGTON – The U.S. Department of Housing and Urban Development today issued its 2008 Annual Homeless Assessment Report to Congress, a national study that explores changes in homelessness nationwide. HUD's assessment concludes that while overall homelessness in America held fairly steady from 2007 to 2008, the number of homeless families, particularly those living in suburban and rural areas, increased.
In addition to the annual report, HUD Secretary Shaun Donovan announced that HUD will, for the first time ever, begin measuring homelessness on a quarterly basis to gain a better understanding of the impact of the current economic crisis on homelessness. The first "Homeless Pulse Project" for the first quarter of 2009 is now available.
«Read the rest of this article»
WASHINGTON – U.S. Housing and Urban Development Secretary Shaun Donovan today announced that HUD is approving plans submitted by state housing finance agencies for $1,035,322,485 to jump start affordable housing programs in states throughout the country that are currently stalled due to the economic recession. Funded through American Recovery and Reinvestment Act of 2009 (Recovery Act), HUD's new Tax Credit Assistance Program (TCAP) will allow 26 state housing finance agencies to resume funding of affordable rental housing projects across the nation while stimulating employment in the hard-hit construction trades.
"The purpose of the American Recovery and Reinvestment Act is to jumpstart the nation's ailing economy, with a primary focus on creating and saving jobs in the near term," said Secretary Donovan. "The funding being announced today is an important step in achieving the goal of putting the American people back to work while providing quality, affordable housing options for low-income families at a time when those options are needed more than ever." «Read the rest of this article»
Funding to help hundreds of thousands of homeowners, homebuyers and renters find and sustain housing
WASHINGTON – The U.S. Department of Housing and Urban Development today announced that more than $58 million is available for a broad range of housing counseling programs to help families find and preserve housing. The funding is an increase of $11 million, or 23 percent, over last year. These grants will be awarded competitively to hundreds of HUD-approved counseling agencies and State Housing Finance Agencies that offer a variety of services including how to purchase or rent a home, how to avoid foreclosure, how to improve credit scores, and how to qualify for a reverse mortgage.
"Now, more than ever, it is crucial that American families make informed decisions about their housing choices," said HUD Secretary Shaun Donovan. "These counseling agencies are also vital to the success of the President's Making Home Affordable Plan which is helping families avoid foreclosure and remain in their homes." «Read the rest of this article»
HUD and Fair Housing Group Partner to Fight Foreclosures and Discrimination
WASHINGTON– Department of Housing and Urban Development (HUD) Secretary Shaun Donovan and the National Fair Housing Alliance (NFHA) rolled out their national media campaign to fight foreclosures and discrimination.
NFHA and HUD have partnered to create a national media campaign that informs consumers about alternatives to foreclosure, how to avoid predatory loan terms and how to recognize and report rental discrimination. NFHA's members nationwide, the Leadership Conference on Civil Rights, and other groups will assist with distributing the materials.
"Many families, particularly minorities, have been victims of aggressive and misleading marketing of risky loan products and foreclosure rescue scams," said HUD Secretary Donovan. "As we implement President Obama's Making Home Affordable plan to deal with the foreclosure crisis we need to ensure that families in trouble with their mortgages are not hurt a second time with scams. Foreclosure scams are destructive, devastating, and deceptive, and I'm thrilled that the National Fair Housing Alliance, in partnership with HUD is launching an ad campaign to address the fair housing challenges in the foreclosure crisis, including predatory lending and foreclosure scams." «Read the rest of this article»
More than 10,000 complaints filed last year, most alleging disability discrimination
WASHINGTON – A record 10,552 fair housing discrimination complaints were filed in fiscal year 2008, according to a report just released by the U.S. Department of Housing and Urban Development. The report, which is produced for Congress each year, shows that a large portion of the complaints, 44 percent, were filed by persons with disabilities. Thirty-five percent, or 3,699, of the complaints alleged discrimination based on race.
"Despite progress, housing discrimination continues in America. We must put a stop to it and stand up for anyone who is unlawfully denied a home of their own," said John Trasviña, HUD Assistant Secretary for Fair Housing and Equal Opportunity. "Fighting against housing discrimination and affirmatively furthering fair housing are twin priorities of HUD and the Obama Administration." «Read the rest of this article»
Funding protects children from lead poisoning
WASHINGTON – The U.S. Department of Housing and Urban Development today announced that more than $117 million is available to eliminate dangerous lead-based paint hazards from lower income homes and protect young children from lead poisoning. The grants are being offered to States and local governments through HUD's Lead-Based Paint Hazard Control and Lead Hazard Reduction Demonstration Programs.
"There is nothing more important than the health and safety of our children, and these grants are a significant investment in their futures," said HUD Secretary Shaun Donovan. "These grants will support the efforts of state and local governments to clean up lead hazards in order to protect young children and their families from the lasting effects of lead poisoning."
Even though lead-based paint was banned for use in the home in 1978, HUD estimates that approximately 24 million homes still have significant lead-based paint hazards today. «Read the rest of this article»