Celebration of Unity Day presents Dr Bobby Jones with a Lifetime Achievement Award
On Saturday June 5th at 6:30pm,  we will celebrate Unity Day at Faith Outreach Church with guest honoree Ambassador Dr. Bobby Jones.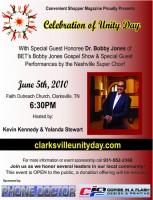 Dr. Jones is currently has the longest running TV show on cable TV for more than three decades…'The Bobby Jones Gospel Show.' We will also celebrate and recognize Clarksville's diverse leadership by honoring several local pastors and non-profit organizations in our community.
The purpose of Unity Day is to unite our Clarksville community and celebrate the accomplishments of our diverse leadership. We also will pay tribute and recognize our non-profit organizations. The event promotes unity among family as well as peace among people of all walks of life. Unity Day is created with a focus on family values and multiculturalism.
Pastoral Honorees Include:
Pastors William & Ginger Luffman, Faith Outreach Church
Bishop Calvin & Pastor Lynnita Lockett, Christ the Healer Church
Pastor Acenet & Renee Llanos, House of Restoration Church & North Cross Church
Pastor Diana & Elder Robert Washington, Remnant of God Outreach Ministries
Pastor Jane & Elder Jimmy Garland, True Vine Worldwide Ministries
Pastor Samson & Prophetess Abigail Orusa, God Sanctuary Church
Non-Profit Honorees Include:
Big Brothers Big Sisters
Young Daughters of Destiny
Loaves & Fishes
H.O.P.E.
Hope Pregnancy Center
Tabernacle Christian School
Nia Association
Please see our website for details: www.clarksvilleunityday.com
Hosts: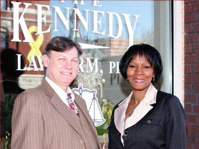 Kevin Kennedy
The Kennedy Law Firm
Yolanda Stewart
Farmers & Merchants Bank

About Doctor Jones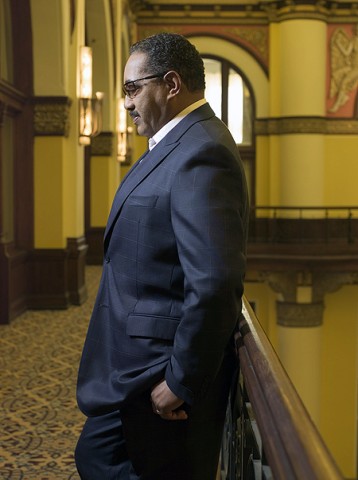 Dr. Bobby Jones, a Henry county native and is credited with taking Gospel Music to mainstream airwaves via cable television. Bobby Jones Gospel, for which he is best known as host and executive producer, has been seen on BET since November 1980 and is one of the network's most popular shows.
Jones, along with the New Life Singing Aggregation and The Nashville Super Choir performs all styles of gospel music and welcomes an array of gospel artists.
The Bobby Jones Gospel Radio Show and The Bobby Jones Gospel Countdown, airs on The Sheridan Radio Network, has become a favorite of Gospel Music lovers from coast to coast.
Jones is a Grammy-award-winning artist as well as Ambassador of Dominica, West Indies.