Topic: Jimmy Garland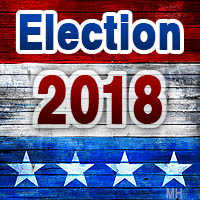 Clarksville, TN – On Saturday, October 6th, 2018 at 12:00pm, Clarksville Civic Groups partner up to hold a "Meet the Candidates Forum" at G's Pancake House Restaurant.
The Coffee Party of Clarksville, Tennessee in partnership with the Clarksville-Montgomery County NAACP, the Clarksville Alumnae Chapter of Delta Sigma Theta Sorority Inc. and the Clarksville – Montgomery County, League Of Voter Empowerment (L.O.V.E.) have partnered up to host this event.
«Read the rest of this article»


Clarksville, TN – The Kleeman Community Center invites the public to join in celebrating Dr. Martin Luther King Jr. on January 16th.
The Kleeman Center, 166 Cunningham Lane, will host a children's program celebrating the life of Martin Luther King Jr. from 12:00pm to 2:00pm and again that evening, from 6:00pm to 8:00pm. «Read the rest of this article»


Clarksville, TN – The weekly Clarksville Parks and Recreation Department Recreation Report provides Clarksvillians with a glimpse at the activities and events that are available from the Parks and Recreation Department for them to enjoy together as a family.
This weeks highlights include:
Celebrate Martin Luther King Jr.
Nominate a Coach Today!
Clarksville Sports Festival
Scuba
Spring Adult Softball/Kickball Meeting Scheduled
«Read the rest of this article»
Montgomery County, TN – The Clarksville Montgomery County School Board held a Public Meeting on the Proposed Rezoning tonight at 5:30pm. Approximately 100 concerned citizens were in attendance along with Kaye Jones supporting her constituents in Ward 11. Also in attendance were two Montgomery County Commissioners which was appreciated by both the citizens and the board.
All citizens who wished to speak were asked to sign in and given three minutes to voice their opinion on the proposed rezoning to the board. This was primarily due to the large interest in speaking to the board on this matter. «Read the rest of this article»
Unity is the quality or state of being made one.
That is exactly what happened during the first annual Unity Day Celebration on Saturday night. For at least one evening, our community was made whole. The purpose of Unity Day was to help unite the Clarksville community, it celebrated the accomplishments our community's leadership, and paid tribute to and recognized the hard work of non-profit organizations in Clarksville, TN; and It more than succeeded in reaching this lofty goal.
The event was the brainchild of Treva Gordon, the Founder and Publisher of the Convenient Shopper an advertising supported bi-monthly magazine. However, during the evenings ceremonies Clarksville Mayor Johnny Piper announced that Unity Day would be officially recognized by the City each year.
«Read the rest of this article»
Celebration of Unity Day presents Dr Bobby Jones with a Lifetime Achievement Award
On Saturday June 5th at 6:30pm,  we will celebrate Unity Day at Faith Outreach Church with guest honoree Ambassador Dr. Bobby Jones.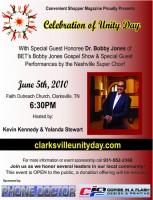 Dr. Jones is currently has the longest running TV show on cable TV for more than three decades…'The Bobby Jones Gospel Show.' We will also celebrate and recognize Clarksville's diverse leadership by honoring several local pastors and non-profit organizations in our community.
The purpose of Unity Day is to unite our Clarksville community and celebrate the accomplishments of our diverse leadership. We also will pay tribute and recognize our non-profit organizations. The event promotes unity among family as well as peace among people of all walks of life. Unity Day is created with a focus on family values and multiculturalism. «Read the rest of this article»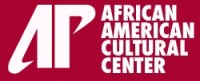 The Wilbur N. Daniel African American Cultural Center (WNDAACC) at Austin Peay State University will host two events next week to celebrate the achievements of civil rights leader Dr. Martin Luther King Jr. and the civil rights movement.
At 7 p.m., Tuesday, Jan. 19 in Clement Auditorium, a documentary, titled "Dare Not Walk Alone," will be shown, with a panel discussion to follow. The film discusses how the citizen reaction in St. Augustine, Fla., to the demonstration may have contributed to the signing into law the Civil Rights Act of 1964. «Read the rest of this article»