A Special Anniversary Edition and World Oceans Day Events Will Commemorate 50 Years of Fun with Dr. Seuss's Famous Fish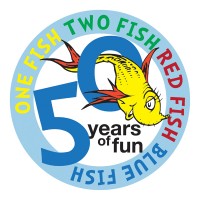 NEW YORK, NY  — In honor of 50 years of Dr. Seuss's One Fish, Two Fish, Red Fish, Blue Fish entertaining children around the world, Random House Children's Books, Dr. Seuss Enterprises, The Ocean Project, and the Association of Zoos and Aquariums (AZA) are partnering to celebrate World Oceans Day, held annually on June 8th. Seventy-five AZA accredited zoos and aquariums across the country, and more than 600 Ocean Project partners worldwide will host fun-filled family events inspired by One Fish, Two Fish, Red Fish, Blue Fish, with the goal of teaching children about our ocean's great diversity of life and the important things we can all do to protect our shared world ocean.
Celebrating the Ocean's Diversity with One Fish, Two Fish, Red Fish, Blue Fish!
Participating locations will commemorate 50 years of One Fish fun on or near June 8th with birthday festivities that incorporate the 2010 World Oceans Day theme. "Oceans of Life" celebrates our ocean's diversity, just as Dr. Seuss celebrated diversity with his colorful characters in One Fish. "From here to there, from there to here, funny things are everywhere." Children will have fun getting to know the ocean's funny things with Seussian games and activities. Since the 2010 World Oceans Day honors former La Jolla resident Dr. Seuss, visitors to San Diego County will be able to choose from a host of special events throughout the region, including the San Diego Zoo, San Diego Botanic Garden, SEA LIFE Aquarium, Birch Aquarium at Scripps, and many others. For more information about World Oceans Day, and to find events and materials, visit www.theoceanproject.org/wod/index.php.
Random House Children's Books is publishing a special 50th anniversary edition of ONE FISH, TWO FISH, RED FISH, BLUE FISH (Random House / 978-0-394-80013-4 / April 27, 2010 / $8.99 / Ages 5-8 / 72 pages) Originally published in 1960, One Fish, Two Fish, Red Fish, Blue Fish remains a beloved Seuss favorite and has sold over 9 million copies to date. With fantastically funny creatures, this Beginner Book teaches the concept of reading with easy rhyme and identifiable illustrations. One Fish, Two Fish, Red Fish, Blue Fish takes children on a wildlife adventure and, like all of Dr. Seuss's books, makes learning to read fun.
World Oceans Day brings local attention to the global issue of climate change and its impact on ocean and animal life. The Ocean Project (TOP) advances ocean conservation in partnership with zoos, aquariums, and museums and leads efforts to promote and coordinate World Oceans Day worldwide. The Association of Zoos and Aquariums (AZA) is a nonprofit organization dedicated to the advancement of accredited zoos and aquariums in the areas of animal care, wildlife conservation, education, and science.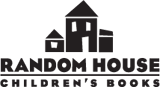 Random House Children's Books is the world's largest English-language children's trade book publisher. Creating books for toddlers through young adult readers, in all formats from board books to activity books to picture books and novels, the imprints of Random House Children's Books bring together award-winning authors and illustrators, world-famous franchise characters, and multimillion-copy series. Random House is also the longtime home of the beloved and bestselling Dr. Seuss books, which continue to make learning to read fun for millions of children everywhere. Random House Children's Books is a division of Random House, Inc., whose parent company is Bertelsmann AG, a leading international media company. Explore the wonderful world of Dr. Seuss at www.seussville.com.
Dr. Seuss Enterprises LP protects the integrity of the Dr. Seuss books while expanding beyond books into ancillary areas. This effort is a strategic part of the overall mission to nurture and safeguard the relationship consumers have with Dr. Seuss characters. Theodor Seuss Geisel (Dr. Seuss) said he never wanted to license his characters to anyone who would "round out the edges." That is one of the guiding philosophies of Dr. Seuss Enterprises. Audrey S. Geisel, the widow of Dr. Seuss, heads Dr. Seuss Enterprises as President.
About Dr. Seuss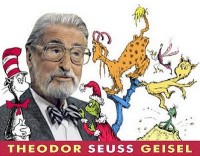 Theodor "Seuss" Geisel is quite simply the most beloved children's book author of all time. The 44 books he wrote and illustrated under the name Dr. Seuss (and others that he wrote but did not illustrate, including some under pseudonyms such as Theo. LeSieg) have been translated into 30 languages and have sold hundreds of millions of copies. Brilliant, playful, and always respectful of children, Dr. Seuss charmed his way into the consciousness of four generations of youngsters and parents and, to this day, his beloved books make learning to read fun for kids everywhere. Dr. Seuss's long list of honors includes the Pulitzer Prize, eight honorary doctorates, and three Caldecott Honors. Works based on his original stories have won three Oscars, three Emmys, three Grammys, and a Peabody. For more information about Dr. Seuss and his works, visit www.seussville.com.