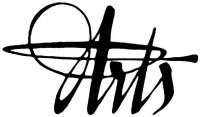 A comment made by someone at Thursday's art walk struck me as really quite insightful, they pointed out just how much the arts community in Clarksville, TN has grown.
Indeed with events like the First Thursday Art Walk, the Customs House Museum, the D.A.C. Gallery, the new APSU Downtown Gallery, Jammin' in the Alley, Beachaven's Jazz on the Lawn, Silke's Old World Bread's Evening with the Artist, the professional performances conducted by the Roxy Regional Theatre, the Community Concert Association's Concert Series, Rivers & Spires, Riverfest, and the many events sponsored by the APSU Center of Excellence for the Creative Arts, they have a point!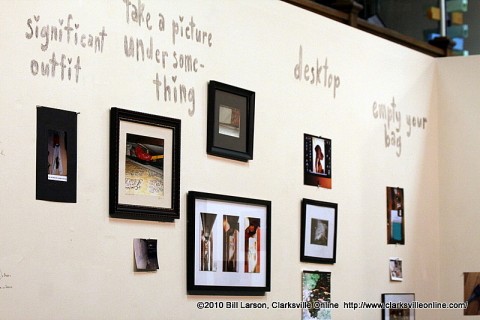 Images from Thursday's Art Walk
Photos taken during the June 3rd, 2010 Art Walk.
Arts Are Fundamental to Society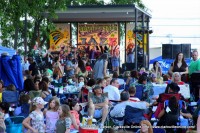 The organization Americans for the Arts lays out some of the benefits that a vibrant artist community can bring to our city.
The arts are integral to the lives of our citizens. We appreciate them for their intrinsic benefits their beauty and vision and how they inspire, soothe, provoke, and connect us. The arts ennoble us as people. They provide bridges between cultures. They embody the accumulated wisdom, intellect, and imagination of humankind (it's how you track our civilization on the radar screen). Government and private-sector support are essential to promote full access to and participation in exhibits, performances, arts education, and other cultural events regardless of family income.
The arts are essential to the health and vitality of our communities and our nation. They improve the quality of life in our cities and town. They enhance community development; spur urban renewal; attract new businesses; draw tourism dollars; and create an environment that attracts skilled, educated workers and builds your third millennium workforce.
In the rapidly changing (and challenging) times in which we live, the arts are salve for the ache. Both military and civilian populations have long relied on the arts for inspiration, to hold up morale, to fight anxiety, and to express our democratic values. Arts leaders are strong partners, especially in tough times. During the Nazi blitz on London, Winston Churchill was asked to close the theaters by his military leaders. His response was, "Good God, man, what the hell are we fighting for?"
Why the Arts Need Support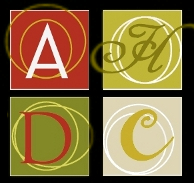 Support for the arts in the United States is provided through a mosaic of funding sources an ever-changing mix of earned revenue, government support, and private-sector contributions. arts organizations are generally able to earn only half of the money it takes to sustain their operation. The other half must be raised through contributions and grants. Even small fluctuations in contributed revenue can mean deficits for many organizations. Why the high costs? One reason is that the arts are a labor-intensive industry, one that employs people locally.
With its more than $3 billion in arts funding, businesses play a key role in ensuring the health and vitality of the nation's arts sector. Business support to the arts largely follows the performance of the nation's economy. There were significant decreases between 2000 and 2005, followed by modest increases between 2006 and 2008. Americans for the Arts is forecasting a decrease in business arts support in 2009.
A Vibrant Arts Community Is Important to the Business Community
Public art and a vibrant cultural community beautifies and animates cities, provides employment,attracts residents and tourists, complements adjacent businesses, enhances property values, expands the tax base, attracts well-educated employees, and contributes to a creative and innovative environment.
A strong arts and arts education presence in the community will develop the kind of workers business leaders need to compete in the 21st century global economy. With tough times, innovation and creativity are more important than ever. A strong arts sector helps attract and retain skilled and educated workers.
In tough economic times, cities will compete aggressively to attract and retain businesses in an effort to shore up sagging economies. A strong arts and culture sector and a creative workforce are critical factors in attracting and keeping businesses.
In tough times, people will take more "staycations," as they look to avoid airfares. A strong arts sector will encourage people to stay local and attend cultural events close to home, boosting the local economy.
The decline in business, personal, and real estate tax revenues are hurting local economies. Spending by cultural tourists will pour more sales and hotel tax dollars into municipal coffers, which means fewer cuts in city services and a decreased likelihood of tax increases good news for businesses.
According the Travel Industry Association, cultural tourists spend more ($631 vs. $457), are more likely to use a hotel (62 percent vs. 56 percent), travel longer (5.2 nights vs. 4.1 nights), and are more likely to spend $1,000+ (18 percent vs. 12 percent) than the average traveler.
Economic Impact
Most of us appreciate the intrinsic benefits of the arts their beauty and vision and how they inspire, soothe, provoke, and connect us. When it comes time to make tough funding choices, however, elected officials and business leaders also need to have strong and credible data that demonstrate the economic benefits of a vibrant arts and culture industry.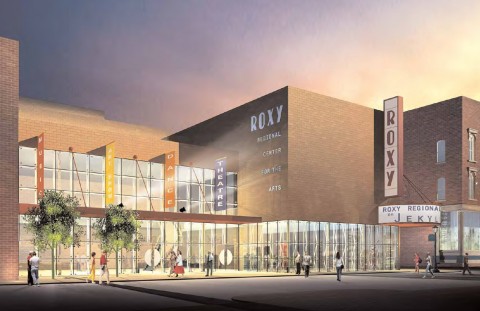 Arts organizations are members of the business community employing people locally, purchasing goods and services within the community, and involved in the marketing and promotion of their cities. arts organizations and their audiences generate $166.2 billion dollar in economic activity every year $63.1 billion in spending by organizations and an additional $103.1 billion in event-related spending by their audiences, proving that the arts are an economic driver in their communities that supports jobs, generates government revenue, and is the cornerstone of tourism.
When we reduce their support for the arts, we are not cutting frills. Rather, we're undercutting an industry that is a cornerstone of tourism, economic development, and the revitalization of many downtowns. When we increase support for the arts, we are generating tax revenues, jobs, and a creativity-based economy.
The typical attendee to a arts event spends $27.79 per person, per event (excluding admission) on transportation, lodging, and other event-related costs. Nonlocal attendees spend twice as much as their local counterparts ($40.19 vs. $19.53). Thirty-nine percent of attendees are nonlocal. Few industries can boast this kind of event-related spending.
Education
Students who participate in the arts, both in school and after school, demonstrate improved academic performance and lower dropout rates. Despite including the arts as being one of the ten core academic subjects, the No Child Left Behind law has helped to push arts classes to the side. Schools, especially those struggling, can retain their best teachers by becoming incubators for creativity and innovation; places where students want to learn and teachers want to teach.
Students with an education rich in the arts have better grade point averages, score better on standardized tests in reading and math, and have lower dropout rates findings that cut across all socio-economic categories. The arts can "level the playing field" for youngsters from disadvantaged circumstances.
Data from The College Board shows that students who take four years of arts and music classes while in high school score 98 points better on their SATs than students who took only one-half year or less.