Written by U.S. Army Spc. Kristina L. Gupton, Task Force Wolverine Public Affairs, 982nd Combat Camera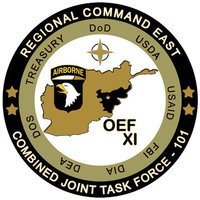 Kapisa Province, Afghanistan – U.S. Army Capt. Bobbie Mayes, the women's empowerment coordinator with the Kentucky Agribusiness Development Team and a resident of Lawrenceburg, KY, demonstrates how to keep ants away from the beehives by sprinkling foot powder around the base of the hive at the Al-Bironi University farm here August 23rd.
Mayes has visited the site before and donated a beehive and training guide to the university to help with the growth of the bees and increase honey production.
Additional Photo