The First Thursday Artwalk will be held tonight from 5:00pm to 8:00pm.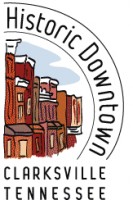 The APSU Downtown Gallery will open the appropriately titled, "A Fantastic Show of Drawing, Painting, and Sculpture" by Paul Fly and Brad Reagan.  The exhibition will run from September 2nd – October 2nd with an opening reception during the First Thursday ArtWalk.
The Downtown Artist Co-op will begin their  Annual Membership Exhibition.
ARTifacts Emporium will feature the wood carvings of Terry Ellis and the creative combo of 3 Lindys.
Terry Ellis is a lifelong resident of Clarksville.  He graduated from Clarksville High School Class of 1956.  He attended APSU.  Terry does Wood Carvings, Woodturnings and Pottery.  He is a member of Tennessee Woodcarvers and Tuckessee Woodturners of Clarksville.
3 Lindys (formerly Lindy Hop Design) is the Mother/Daughter-in-law team of Cindy, Laura, & Kara Reed.  Cindy and Laura started the business in 2005 with hand stamped stationery, a small embroidery machine, and a dream and added Kara in 2008 when she married Cindy's other son. Their booth features personalized stationery and handmade gifts… all designed and produced right here in Clarksville.
Laura Mercier will be the featured artist at Fleur de Lis for Sept 2nd's First Thursday Art Walk. Laura has a unique artistic ability to create things that will add charm to any home. You can also schedule "one on one" time with Laura for a class, birthday party, or girls night. Her woodwork and crafts have decorated homes and been given as gifts all over the state of Tennessee and her Americana decor is a favorite to Ft. Campbell.
For the month of September, Ingredients will feature a collection of works by Susan Tomi McGolrick. Susan Tomi will be featuring Gyotaku and woodcut prints at Ingredients. Gyotaku is the art of fish printing that originated in Japan in the mid 1800's. The earliest known example dates from 1862 when a Japanese lord had prints made to preserve the image of several prize catches. Susan will offer prints made from fish she caught at Ginger Bay this summer. Her wood cut prints will include one of her favorite dishes..sushi!
William Harris, Jr. will also be at Ingredients with his homemade BBQ Sauce.
Hodgepodge will feature the culinary artistry of Jane Burney from The Lovin' Spoonful Café in honor of Jane, Hodgepodge will be displaying a collection of vintage paint by numbers.
Also at Hodgepodge, Kim Edmondson will be performing.   Although not originally from Clarksville, Kim Edmondson has spent many years here and is an APSU graduate in Vocal Performance.  Kim started singing at the age of 5 and has been doing so ever since. Currently, she is employed at Mary's Music where she teaches private voice and piano lessons, serves as the Lesson Administrator and is director of the Kindermusik Program.  Kim is married to Clarksville native Chris Edmondson, and is the mom to three amazing boys.
Rogate's Boutique will feature Courtney Kroupa. She is a APSU Fine Arts Major graduating in December 2010.  She likes to do Block Relief Printing, Pottery and Photography.
The Framemaker located close to downtown, on the corner of Georgia and North Second is excited to present APSU graduate Miranda Herrick. On exhibit is a large series of drawings (Works and Days) which includes 365 pieces, a drawing made on each day of the year. Meet the artist and join us for cake 5:00pm – 8:00pm.