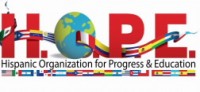 The Hispanic Organization for Progress & Education will be holding a grand opening celebration for their new offices (410 Church Street) from 10:00am till 2:00pm on Friday September 10th 2010. The opening will also serve as their kickoff for the Hispanic Heritage Month. The office is located next door to Forest Street United Methodist Church, there ample is parking available in their parking lot located across the street from the new office.
Each year, Americans observe National Hispanic Heritage Month from September 15 to October 15, by celebrating the histories, cultures and contributions of American citizens whose ancestors came from Spain, Mexico, the Caribbean and Central and South America.
The observation started in 1968 as Hispanic Heritage Week under President Lyndon Johnson and was expanded by President Ronald Reagan in 1988 to cover a 30-day period starting on September 15 and ending on October 15. It was enacted into law on August 17, 1988, on the approval of Public Law 100-402.
The day of September 15 is significant because it is the anniversary of independence for Latin American countries Costa Rica, El Salvador, Guatemala, Honduras and Nicaragua. In addition, Mexico and Chile celebrate their independence days on September 16 and September18, respectively. Also, Columbus Day or Día de la Raza, which is October 12, falls within this 30 day period.
This year's theme recognizes the strength and hard work of Hispanic Americans, whose zeal for family and country has helped shape our society.
Sections
Events
Topics
Hispanic Heritage Month, Hispanic Organization for Progress & Education, Lyndon Johnson, Ronald Reagan