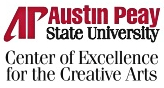 The Center of Excellence for the Creative Arts at Austin Peay State University is currently celebrating their 25th year, and as part of an ambitious year of stellar performances featured the North American Premier of Meredith Monk's Education of the  Girlchild Revisited which opened this year in Paris, France.
This evening-length work is comprised of Monk's legendary solo from Education of the Girlchild (1972) and Shards, a reconfiguration of music, images and movement from the Girlchild period (1969-1973). According to Christopher Burawa from the APSU Center of Excellence for the Creative Arts, "This masterful program revisits the source of Monk's prolific outpouring, offering some of the most original music of our time."
Monk clad in white with a white haired wig, was already on stage sitting motionless when the auditorium was opened up to let the audience in.
The first act consisted of Meredith Monk walking the path of life in reverse, growing younger at each step along the way. She uses her voice as an instrument playing the song of the her life. It is a vibrant and uplifting. She punctuates the song of life with moments of painfully intense silence where the audience hardly dares to draw a breath lest they disturb the magic that Monk is creating on stage.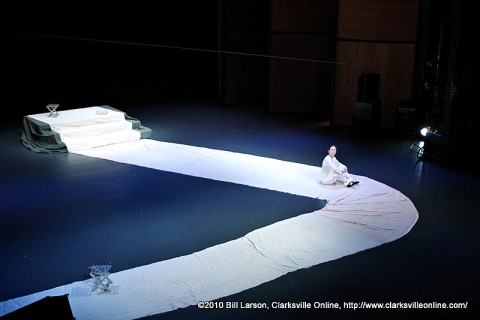 The program was dedicated of Sybilla Hayn, Monica Moseley, and Lee Nagrin, members of the original cast from the Education of the Girl Child who have since passed away; the rest of the cast Meredith Monk, Blondell Cummings, Lanny Harrison, Coco Pekelis, and Daniel Ira Sverdlik are still with us.
During the second act of the program, Monk was joined by Katie Geissinger, Ellen Fisher and Allison Sniffin to perform Shards, a reconfiguration of music, images and movement from the Girlchild period (1969-1973).
Shards revives music and movement from the "Girlchild" period, including selections from Key: an album of invisible theatre (1970) and Vessel: an opera epic (1971).
Meredith Monk said it best, "For Shards I reconsidered various materials that I created during the tumultuous and vibrant period of the late 1960's and early 1970's. Just as an archaeologist examines fragments of an ancient pot and tries to imagine the whole, I, with the help of the performers, worked with music, images, and movement from that period, investigating the form, energy, and philosophy underlying them. Instead of trying to reproduce what happened then, we have modified and recombined the fragments to create an entirely new entity."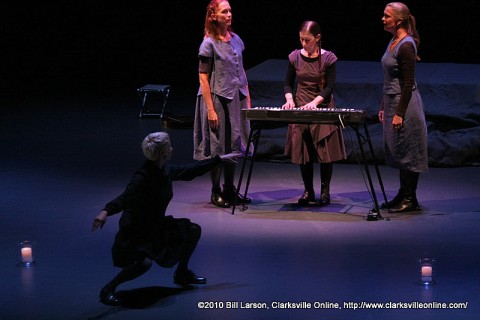 These fragments include diverse elements like "Porch," "Understreet," "Fat Stream," "Philosophy Conversation," "Epic," "Fire Dance," "Little Epiphany/Sybil Song," "Mill," "Do You Be," "Circular Song," "Traveling," "A Test," and "The Tale/Dance."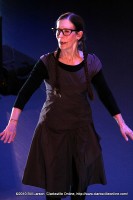 The Ensemble intertwines their voices in intricate patterns ranging from heavenly to haunting. The stage is set with three keyboards, and at the close of each number Monk and another cast member covers each keyboard with a drop cloth, closing out one chapter before moving on to the next. This act also features various dances during which Monk and the other performers release some of the tension, the energy that they have built up into the auditorium and the audience, leaving them feeling energized after the performance is over.
The show was conceived and directed by Meredith Monk, lighting and technical direction provided by Tony Giovannetti, costumes by Yoshio Yabara, the production stage manager was Elaine Buckholtz, and stage manager was Kathy Rose.
If you get an opportunity to see Meredith Monk in performance you really should do so, especially Education of the Girlchild Revisited.
Gallery
About Meredith Monk
Meredith Monk is a composer, singer, director/choreographer and creator of new opera, music theater works, films and installations. A pioneer in what is now called "extended vocal technique" and "interdisciplinary performance," Monk creates works that thrive at the intersection of music and movement, image and object, light and sound in an effort to discover and weave together new modes of perception. Her groundbreaking exploration of the voice as an instrument, as an eloquent language in and of itself, expands the boundaries of musical composition, creating landscapes of sound that unearth feelings, energies, and memories for which we have no words. She has alternately been proclaimed as a "magician of the voice" and "one of America's coolest composers." During a career that spans more than 45 years she has been acclaimed by audiences and critics as a major creative force in the performing arts.
Since graduating Sarah Lawrence College in 1964, Monk has received numerous awards including the prestigious MacArthur "Genius" Award in 1995, two Guggenheim Fellowships, a Brandeis Creative Arts Award, three "Obies" (including an award for Sustained Achievement), two Villager Awards, two "Bessie" awards for Sustained Creative Achievement, the 1986 National Music Theatre Award, the 1992 Dance Magazine Award, and a 2005 ASCAP Concert Music Award. In 2006 she was inducted into the American Academy of Arts and Sciences and named a United States Artists Fellow. In 2010 she was awarded a Letter of Distinction from the American Music Center. Monk holds honorary Doctor of Arts degrees from Bard College, the University of the Arts, The Juilliard School, the San Francisco Art Institute and the Boston Conservatory.
In 1968 Ms. Monk founded The House, a company dedicated to an interdisciplinary approach to performance. In 1978 she formed Meredith Monk & Vocal Ensemble to expand her musical textures and forms. She has made more than a dozen recordings, most of which are on the ECM New Series label. Dolmen Music (ECM New Series) and Our Lady of Late: The Vanguard Tapes (Wergo) were honored with the German Critics Prize for Best Records of 1981 and 1986. Her music has also been performed by many notable soloists and groups including Bang on a Can All-Stars, Björk, The Chorus of the San Francisco Symphony, Double Edge, Musica Sacra, and The Pacific Mozart Ensemble, among others. It can also be heard in numerous films, including La Nouvelle Vague by Jean-Luc Godard and The Big Lebowski by Joel and Ethan Coen. In 2000, Monk began a publishing relationship with Boosey & Hawkes. A number of her scores, including her Piano Album, have since been made available to the general public.
Monk is a pioneer in site-specific performance, creating works such as Juice: A Theatre Cantata In 3 Installments (1969) at the Guggenheim Museum, and American Archeology #1: Roosevelt Island (1994). In 2009 she was invited back to the Guggenheim for Ascension Variations, featuring over 120 performers. Monk is also an accomplished filmmaker who has made a series of award-winning films including Ellis Island (1981) and her first feature, Book Of Days (1988), which was aired on PBS, shown at the New York Film Festival and selected for the Whitney Museum's Biennial. Both films were released on DVD in February 2007. A retrospective art exhibition, Meredith Monk: Archeology of an Artist, opened at The New York Public Library for the Performing Arts at Lincoln Center in 1996. Other recent art exhibits are comprised of a major installation, Art Performs Life at The Walker Art Center, a show, Shrines at the Frederieke Taylor / TZ' Art Gallery, inclusion in the 2002 Biennial at the Whitney Museum, ev+a 2002 Exhibition at Limerick City Gallery of Art and group exhibits Show People at Exit Art and Between Thought and Sound: Graphic Notation in Contemporary Music at The Kitchen. A monograph, Meredith Monk, edited by Deborah Jowitt was released by Johns Hopkins Press in 1997. The documentary film Meredith Monk: Inner Voice by filmmaker Babeth VanLoo, and a CD of Monk's archival recordings titled Beginnings on John Zorn's Tzadik Records, were both released in 2009.
In October 1999 Monk performed a Vocal Offering for His Holiness, the Dalai Lama as part of the World Festival of Sacred Music in Los Angeles. In July 2000 her music was honored by a three concert retrospective entitled Voice Travel as part of the Lincoln Center Festival. Monk's first orchestra piece, Possible Sky (commissioned by Michael Tilson Thomas for the New World Symphony), premiered in April 2003 in Miami and was performed by the Hamburg Symphony in 2006. Stringsongs, her first composition for string quartet (commissioned by the Kronos Quartet) had its world premiere at the Barbican Center in January 2005. In November 2005, Monk's 40th year of performing and creating new music was celebrated by a four-hour marathon at Carnegie's Zankel Hall. Another marathon, Meredith Monk Music @ The Whitney was presented at the Whitney Museum in 2009. Monk's Grammy-nominated CD, impermanence (ECM New Series), was released in March 2008. Her new music theater work, Songs of Ascension, premiered in October 2008 and was performed at BAM's Next Wave Festival in October 2009. It is currently touring internationally. Recently Monk received a commission from Grand Center Inc. and the Saint Louis Symphony Orchestra to create a new orchestra piece. WEAVE for Two Voices, Chamber Orchestra and Chorus premiered in St. Louis in March 2010 and was performed by the Los Angeles Master Chorale in April 2010. In June, Monk premiered Education of the Girlchild Revisited in Paris. This evening-length work is comprised of Monk's legendary solo from Education of the Girlchild (1972) and Shards, a reconfiguration of music, images and movement from the Girlchild period (1969-1973).
About the cast
Ellen Fisher is a performance artist whose work combines gestural actions with visual components such as film, shadow play, objects and puppets. She began performing with Meredith Monk/The House in the '70's, in such works as The Plateau Series and Recent Ruins, and more recently has appeared in mercy and impermanence. Fisher's performance work is informed by ethnographic research in trance dance and rituals of South Asia, particularly Sri Lanka. Since 1981, she has toured solo work throughout Europe and the U.S., also directing large ensemble work reinterpreting myths and legends. Her film work, including documentaries, has been included in festivals throughout the world. She has received funding through the NEA, Art Matters Inc., Jerome Foundation, NYFA and the Asian Cultural Council, winning a 2004 Humanities Fellowship and a 2005 Travel Grant. Fisher continues to teach and collaborate with artists on community intergenerational and intercultural projects, both domestically and internationally.
Katie Geissinger has been touring throughout the world with Meredith Monk since 1990, in concert and in pieces such as ATLAS (Houston Grand Opera), The Politics of Quiet (for which she is a "Bessie" recipient), mercy (with Ann Hamilton), and most recently, impermanence. She has also performed Facing North with fellow company member Theo Bleckmann in China's first-ever UNESCO concert. Katie was featured in, and recorded, Philip Glass and Robert Wilson's Einstein on the Beach, and premiered and recorded Bang on a Can's OBIE-winning The Carbon Copy Building, which recently played in Liverpool, England. Broadway credits include Coram Boy and Baz Luhrmann's production of La Boheme. She has also sung at BAM in Jonathan Miller's production of The St. Matthew Passion. Katie made her Carnegie Hall solo debut in Bach's Magnificat, and returned this spring to perform the role of the Witch in Honegger's King David. Upcoming performances include the role of Cyrus in Handel's Belshazzar, and several performances of The Rosenbach Company, a rock score by Mark Mulcahy set to the cartoons of Ben Katchor. Katie also sings cabaret, and has recent and future appearances at Feinstein's at the Regency in the show called Rendezvous. She has recorded for ECM, Canteloupe, and Elektra Nonesuch. Teaching experience ranges from choral work in Estonia and San Francisco to workshops at Naropa, Oberlin, the Experimental Theater Wing at NYU, Berklee, and the Carnegie Hall Professional Training Workshop.
Allison Sniffin is a multi-instrumentalist, singer, composer, and member of Meredith Monk & Vocal Ensemble since 1996, Sniffin has performed in The Politics of Quiet, A Celebration Service, Magic Frequencies, mercy, Turtle Dreams, Book of Days and impermanence. In addition to performing in Monk's Ensemble, she has engraved, prepared or orchestrated a number of Monk's works including Possible Sky and Night, and edited a book of her piano music. A recipient of awards from Meet the Composer and Concert Artists' Guild, Sniffin's music has been performed by New York Philharmonic-based duo Lambchops and by the Metamorphosis Orchestra. With a grant from Open Meadows Foundation she was commissioned by Melodia Women's Choir of NYC to create a work based on the writings of Sor Juana Ines de la Cruz, which premiered at Merkin Hall in New York in November 2006.