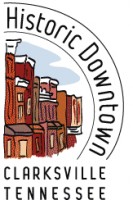 Clarksville, TN – On the First Thursday of each month the Downtown Clarksville Association puts on an artistic extravaganza  featuring many of the downtown businesses.  The First Thursday Artwalk provides a venue for local artists to show off their creativity, gain exposure in the community, perhaps most importantly sell their wares. Participating businesses include The Downtown Artists Coop, The Peg Harvill Gallery in the Roxy Regional Theatre, ARTifacts Emporium, Hodgepodge, The APSU Downtown Gallery, Rogates Boutique, Betty's Antiques,  The Roost,  Ingredients, Visions Metaphysical Boutique, The Framemaker, & Planters Bank.
The First Thursday Artwalk continues to grow as new people discover the event, and are instantly hooked; becoming  regular participants. Not only do you get to enjoy the wonderful art and culture on display, but the merchants offer a variety of food  and drink to enjoy as well.
Each month as the next Artwalk approaches, Clarksville Online runs an announcement written by Kendall Welsh giving a run down of the coming Art Walk. Kendall is the owner of ARTifacts Emporium.
Photo Gallery
Here are images from the November 2010 Art Walk which was held on November 4th.
About Bill Larson
Sections
Arts and Leisure
Topics
APSU Downtown Gallery, ARTifacts Emporium, Betty's Antiques, Downtown Artists Coop, Downtown Clarksville Association, First Thursday Artwalk, Framemaker, Historic Downtown Clarksville, Hodgepodge, Ingredients, Peg Harvill Gallery, Planters Bank, Rogate's Boutique, Roxy Regional Theatre, The Roost, Visions Metaphysical Boutique