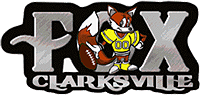 Clarksville, TN – The Fox Fun Cards are here and ready to be purchased and used for the 2011 calendar year. The Fox Fun Card is the best discount card you will find anywhere close to Clarksville and surrounding areas. The best restaurant and fun places for the family around Clarksville are on this card and will save you tons of money through the year by using it.
The Fox Fun Cards have continued to add better businesses and better discounts every year. At a cost of only $10.00 the card is hard to pass up and is just a waste of money not to have one in your pocket.
Fox Fun Cards can be purchased from any of the Fox Football Players, Fox Coaches, Owner Rob Brown, or go to the team's web site The Clarksville Fox and order them online with a PayPal account.
Organizations wanting to sell them as a fundraiser contact Rob Brown, Owner and General Manager of the Clarksville Fox, at 931-320-2976 for money earning details.
Businesses can purchase them at a discount for their employees for Thanksgiving and Christmas gifts. Call Rob today for details and discounts.
The Fox Fun Card is the gift that keeps on giving saving the card holder tons of money through the year. Your family, friends, and employees will continue to thank you for this awesome gift.
 
Support the Clarksville Fox Full Contact Football team and order your Fox Fun Cards now!!!